Finally, we can reveal the shortlisted entries to our official Star Wars The Force Awakens contest with Curzon Cinemas.
In no particular order, here are the entires we chose for the exhibit! We will be announcing the winner on Thursday 17th December!
We want to thank everyone who took the time to enter this competition as we were absolutely blown away by the positive response and the amazing entries. It took us nearly an hour to shortlist down these entries and we wish we could have displayed more. We've also added some personal favourites that didn't make the shortlist in our honourable mentions.
Finally, Poster Spy and Curzon would like to thank Mr Anthony Daniels for judging our contest, we can't wait to see 3PO on the silver screen once more! Anthony Daniels had this to say about the shortlisted entries.
The range of talent in these finalists is delightful: from terrific portraits of Daisy and John to the mechanically impish BB8.  I love the fractured look of Rey in the desert.

– Anthony Daniels, C-3PO
The Shortlist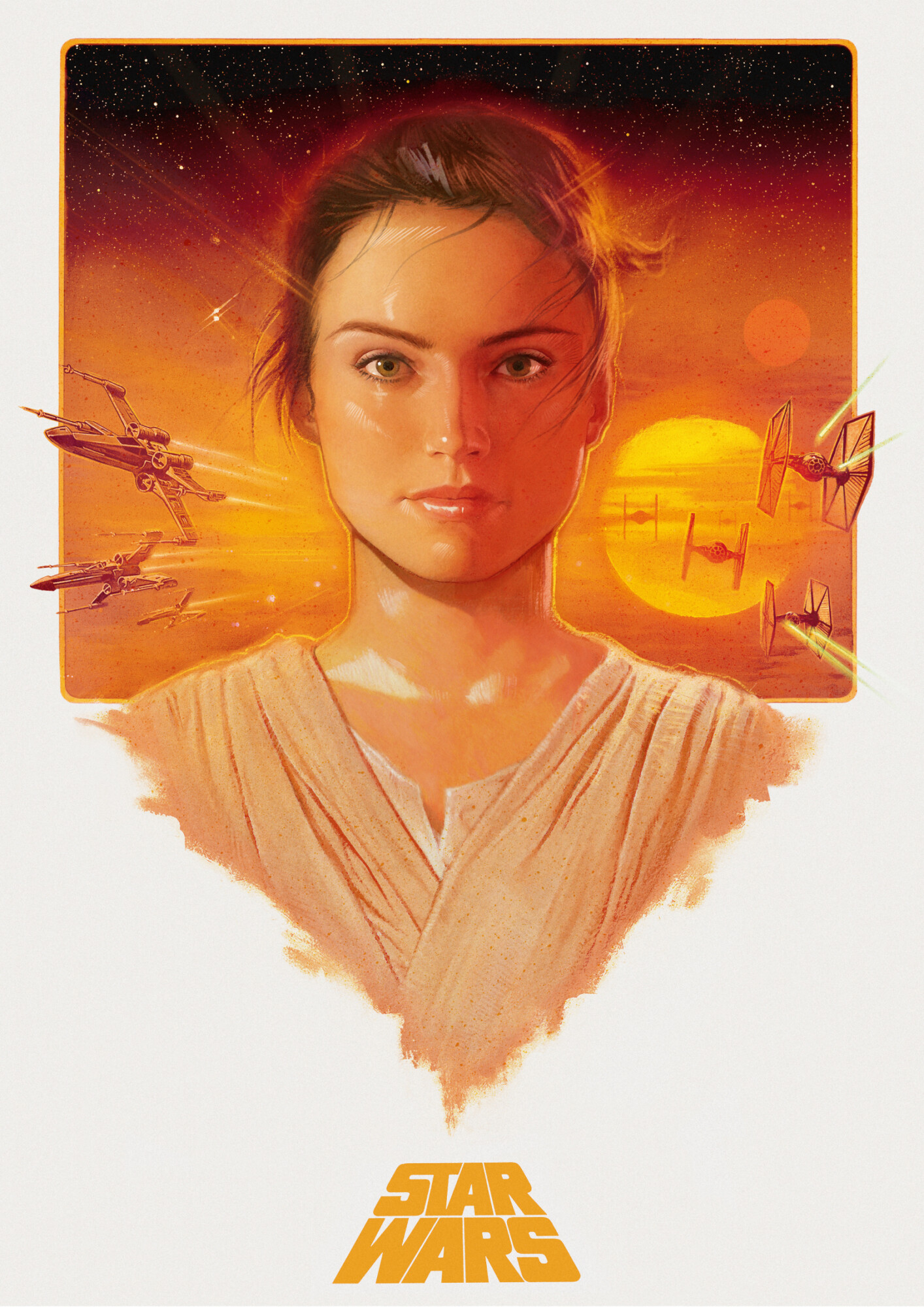 'Rey' by John Keaveney
"I decided to base my poster on Rey. From what I have seen from The Force Awakens trailers, she seems to be an essential character to the new trilogy. The colour and composition for this poster recreates the dynamic confrontation on the planet Jakku.

I try to make my work have a classic vibe, heavily influenced from legendary illustrators such as Drew Sturzan, Bob Peak and visionary Ralph McQuarrie.

With most my work I use a mixture of traditional and digital methods to create lavishly detailed illustrative artworks. I try to get the best out of both mediums."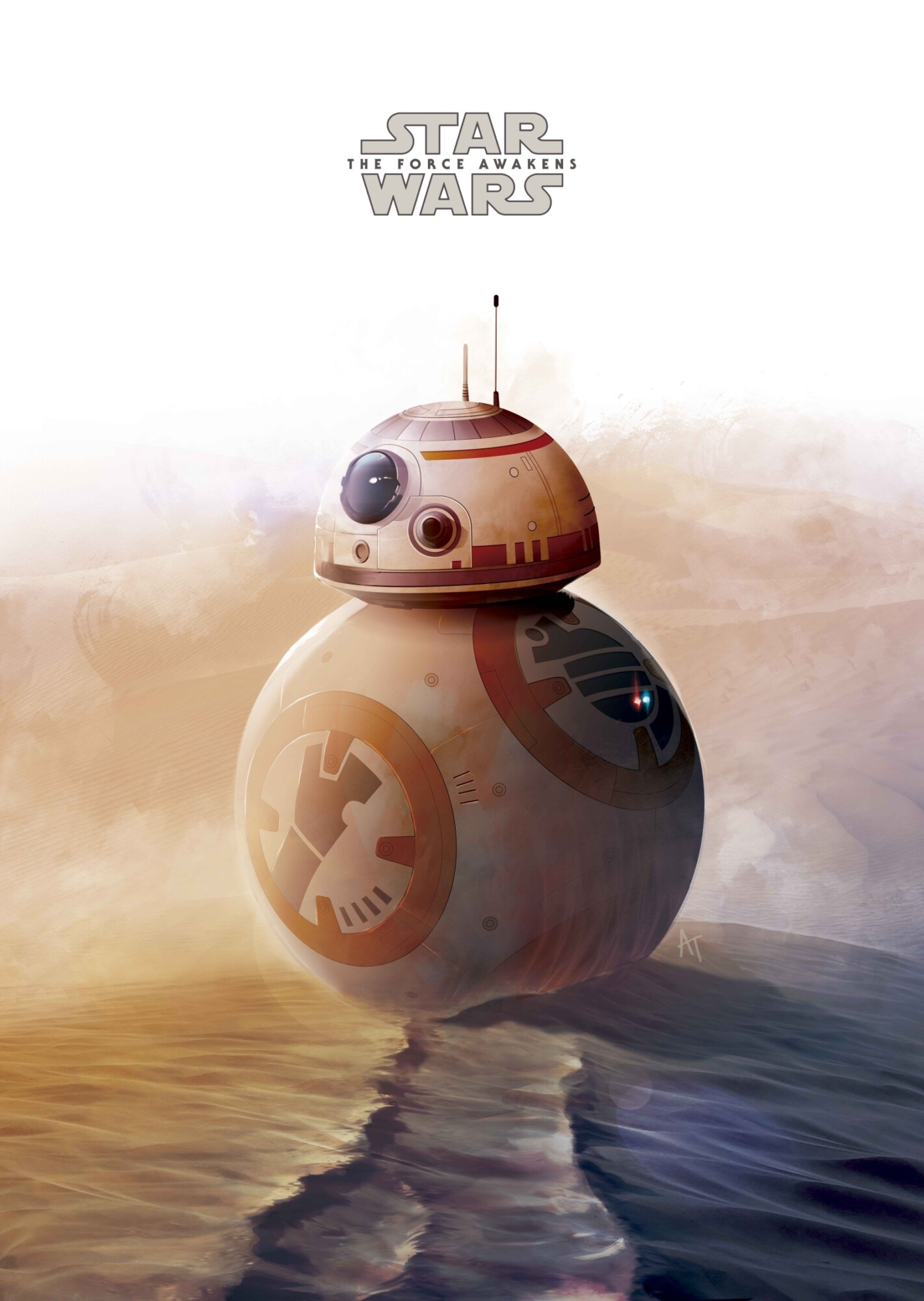 B88 by Jose Angel Trancon Fernandez
"I started drawing using a vector design. Then I progressively added details, lights and shadows in different layers. Finally, I worked on the landscape, the dust that covers BB-8 and the atmosphere which takes you to the desert.

Through this poster I wanted to show our new found astromech friend in his journey across the vast wastelands of Jakku, surrounded by threats and amazing adventures to come.

Whatever it is, BB-8 will always be ready to help, for you know yourself "We seem to be made to suffer. It´s our lot in life"… "

"Who are you?" by Kate Jones

"I was intrigued by one of the main protagonists of the film: Rey. To me, her costume is a nod to Lawrence of Arabia, so I wanted to evoke this by featuring a hero shot of her character and the sweeping sand dunes of Jakku, as if she almost blends into the environment."
The Force Awakens – Kevin McGivern
"For this piece, I wanted to concentrate on the new characters of the Star Wars universe with the emphasis being on the villain of the movie, Kylo Ren who, for me, has the makings of being an all-time classic Star Wars character. I have always been inspired by the iconic Star Wars posters of the past and wanted to give Kylo Ren this iconic status. I plan to do a series focusing on each of the main characters in the film. This was such an exciting piece to work on I and I hope the painting someway pays tribute to the phenomenal Star Wars."

The Light Side by Ladislas Chachignot

"As a big fan of Star Wars universe , i've always wanted to create a tribute to this great movie. With the new Trilogy that coming up i took this opportunity to finally create my "Graphic tribute" of one of the most famous and awesome saga in the world "Star Wars". I've chosen to approach it with a 2 poster concept project ( The second poster is visible on my social pages ). I've chosen to illustrate 2 of the main new characters of this new trilogy. My goal was to confront these 2 characters that belong to opposite side of "the Force" : The light Side "Jedi" and The Dark Side "Sith". For the "Light Side of the Force" poster i've painted the portrait of "Finn".

I wanted to create a  poster with a specific graphic background instead of a landscape. I've created a graphic pattern which  represent and symbolize  the "Rebel Alliance" and Jedis. It is created only using curves and natural elements ( in opposition with the Dark side poster made with straight agressive geometric lines ). i've also included 3 spaceships and 1 helmet representatives of the Rebel Alliance."

Trooper Awakens by Matthew Miles

"Over the past few months I've slowly been pulled back into Star Wars fever so thought it best to give a creative salute. The brief for my poster was simple, let's do something with the new look storm troopers. The process started with scanning in a simple drawing I did on a lunch break, then spending the next several hours chipping away at it in Illustrator. The colour palette of bright pink, yellow, purple are colours you would probably associate more with a dairy milk advert but I wanted to flip things on its head and create an original piece with impact. I find it great that sites like Posterspy run high end competitions as it's often the push you need to do a personal projects outside of work or freelance. I'm honoured to be shortlisted against such talent."

Kylo Ren by Michael Friebe

"The main driver for the design has been to create a poster that is simple and minimalistic in its approach, yet elegant and refined in its execution.

I took inspiration from (and wanted to pay credit to) the unique design of Kylo Ren's mask by stylizing and elevating it to a level where it almost becomes an glorified object of superficially prestigious quality. Still, the mask emerges from these very rough vertical bars, which share non of the qualities above, hence revealing Ren's true sinister nature. I also don't think that it is too much of a stretch to read these bars like those of a prison cell, suggesting that Kylo Ren is a prisoner of his own dark mind, which keeps him bound to the dark side – as supported by the poster's overall dark and gritty look.

The poster is entirely build in Adobe Illustrator and Photoshop and does not rely on any promotional shots or stills from the film."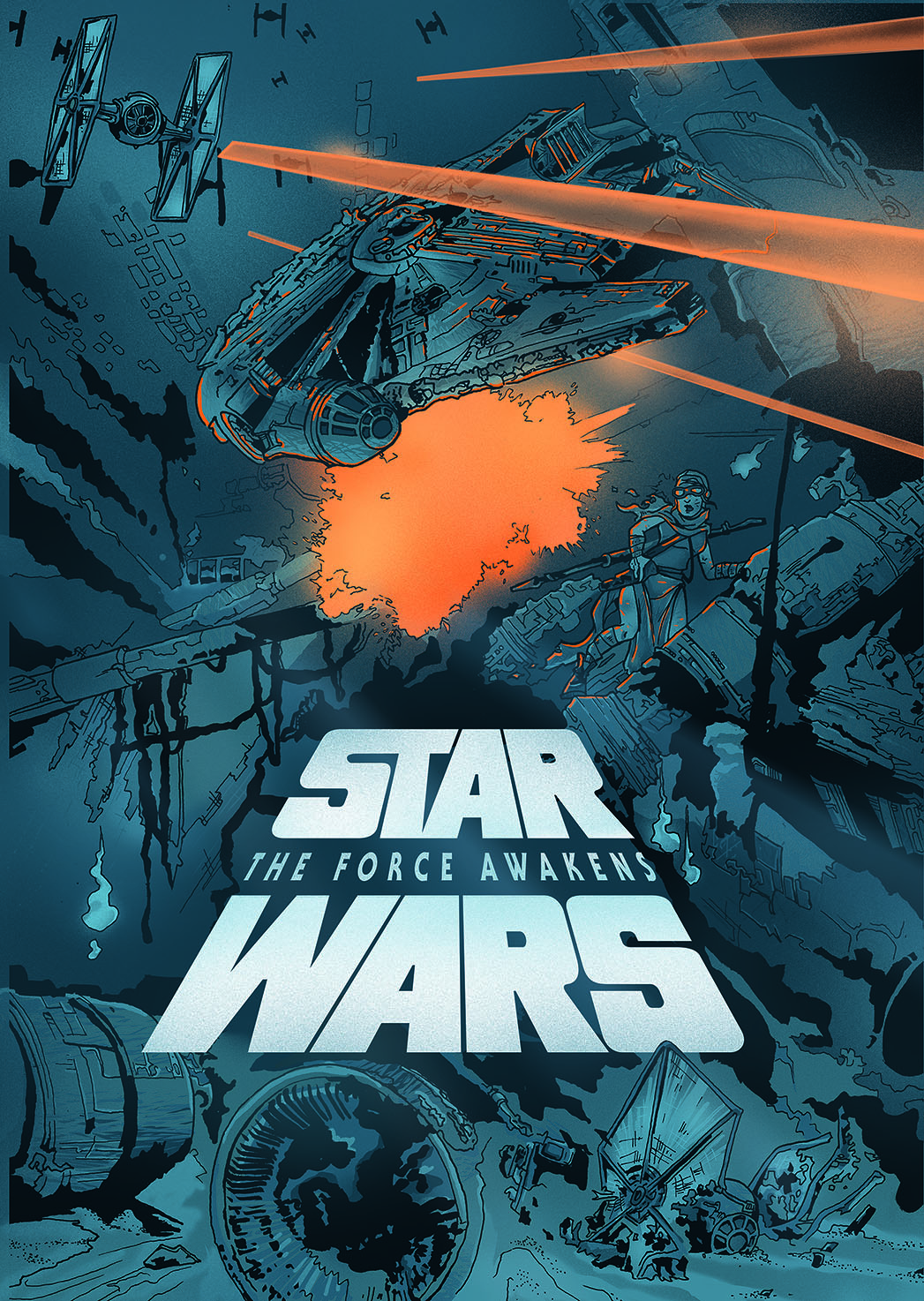 Star Wars by Nils Kaufmann
"At first i tried many minimalist designs out, but Star Wars is a a film about so much detail, especially in the scenery that I tried to reflect in my poster.

The Scene with the most impact setting wise for me, was the Jakku-scene. So I choose it for my motif."

The Force Awakens Retro Alternative by Ollie Boyd

"One of my favourite poster designs is the original one sheet of "A New Hope". I love the classic feel and composition of that poster that builds around Luke Skywalker, the hero of the story, dressed in white and bathed in light symbolising the light side of the force.

It occurred to me that the tri-pronged 'flare' coming from Lukes lightsaber bore a striking resemblance to Kylo Renns crossguard lightsaber in "The Force Awakens". That sparked the idea of recreating this classic design but flipping it, with Kylo Renn as the main focus and basing the whole poster on the dark side.

I have a feeling "The Force Awakens" will have a lot of parallels with the original 1977 movie making this an appropriate design. Hopefully not to much lens flare though ;)"
Sith Happens by Robert Lockley
"Pop-art propaganda produced in homage to Andy Warhol and Shephard Fairey."
Honourable Mentions
Born to Storm by Adam Cockerton
Finny vs Kylo by Callum Parish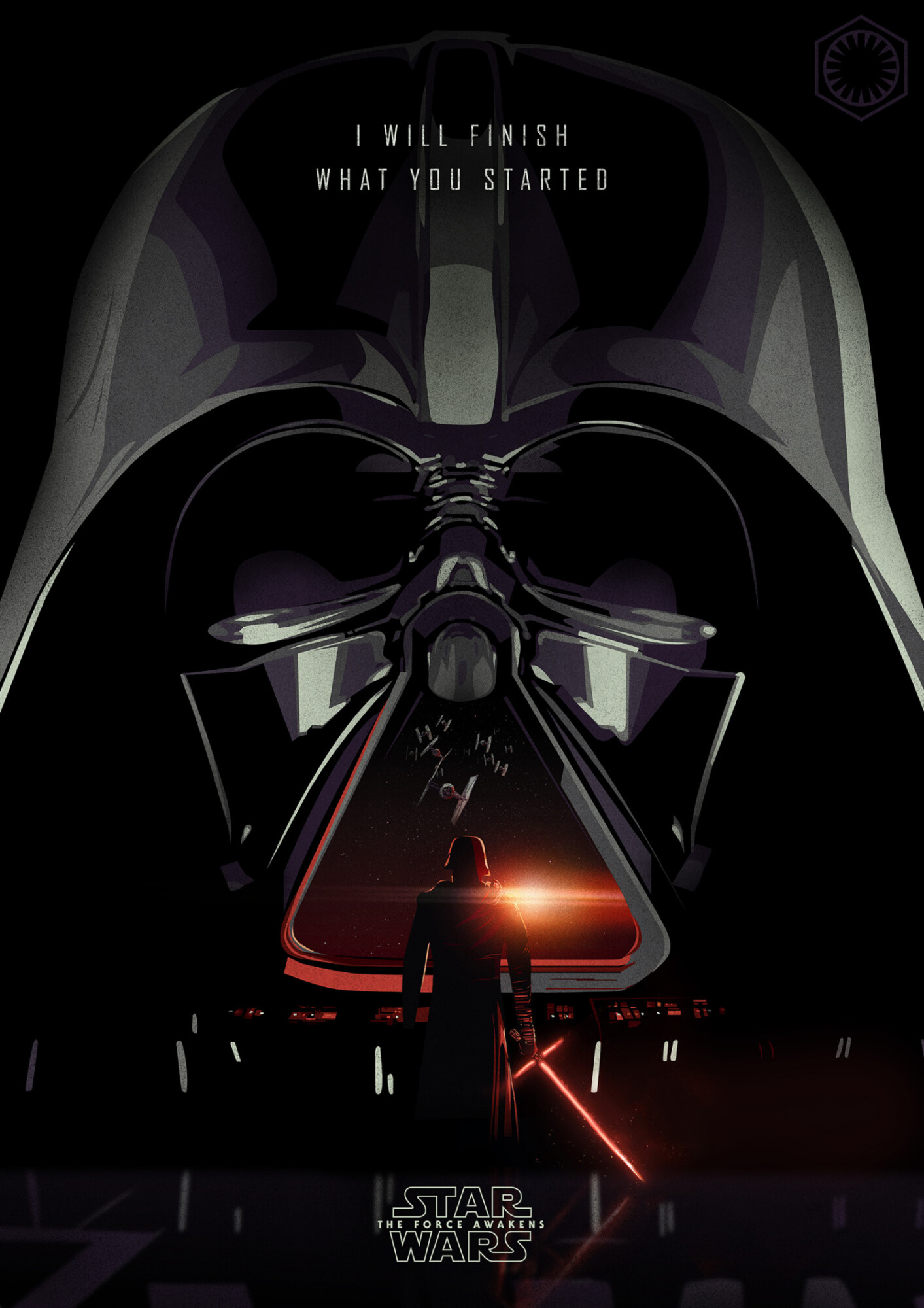 I will finish what you started by Fiona McCall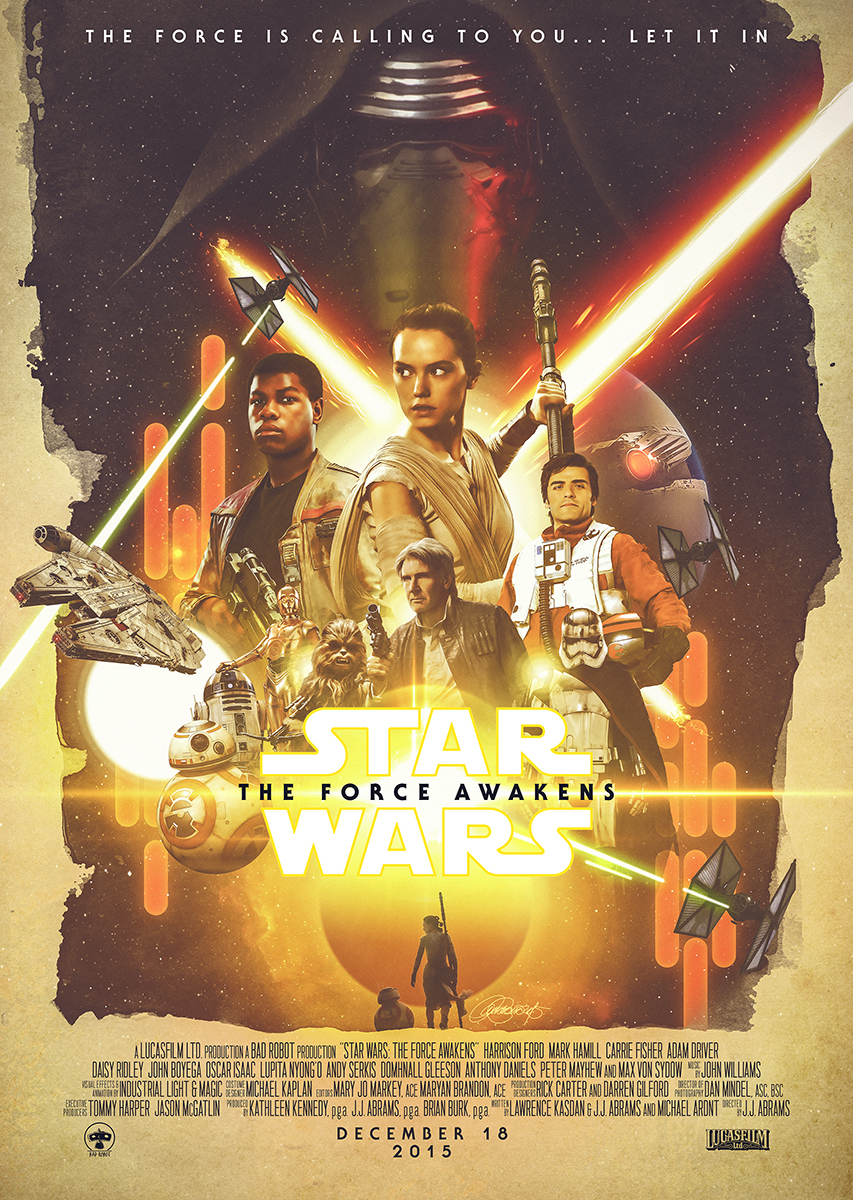 The Force Awakens by Laura Racero
Join the Resistance by Steve Foster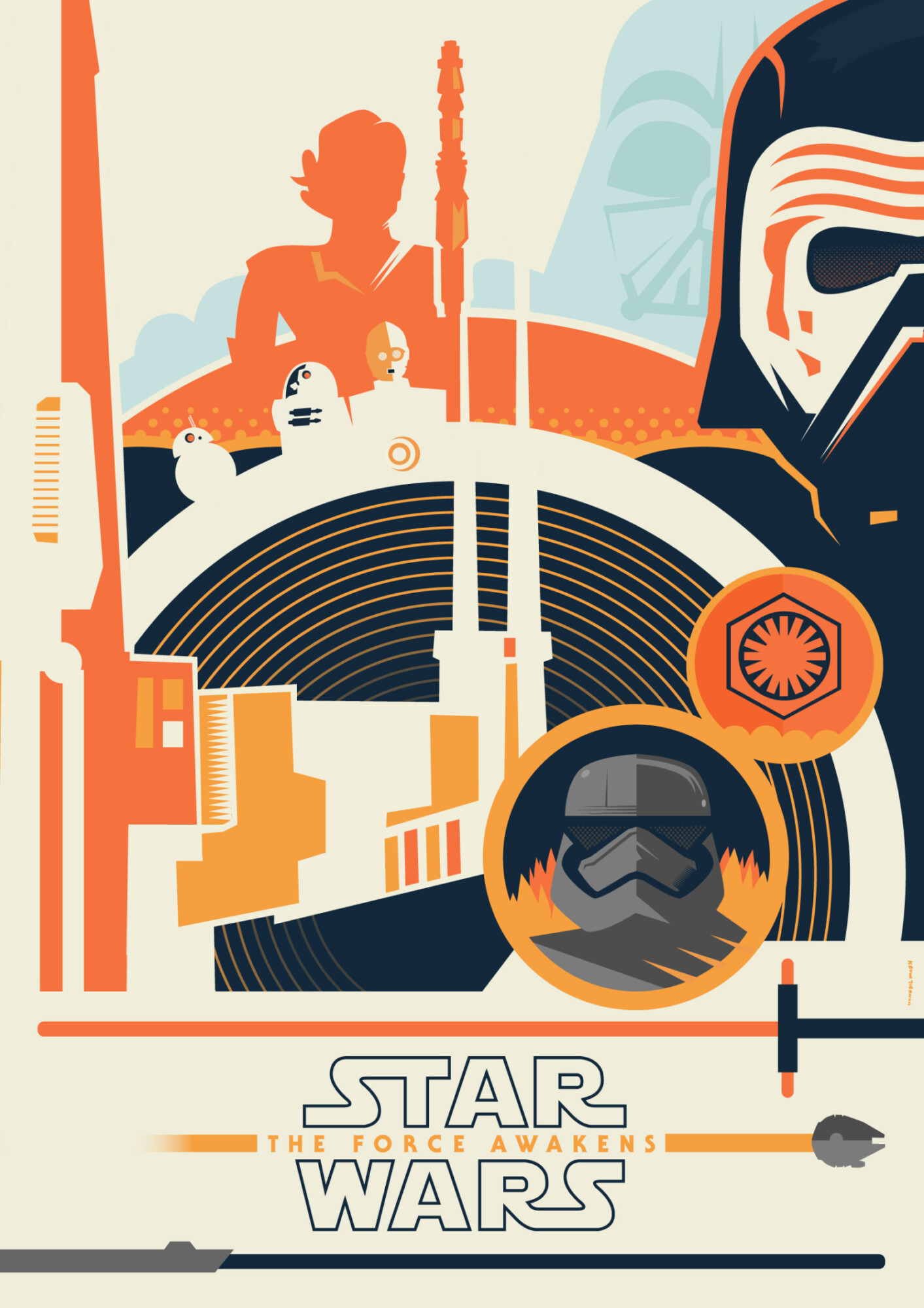 Moving in Circles by Kevin Tiernan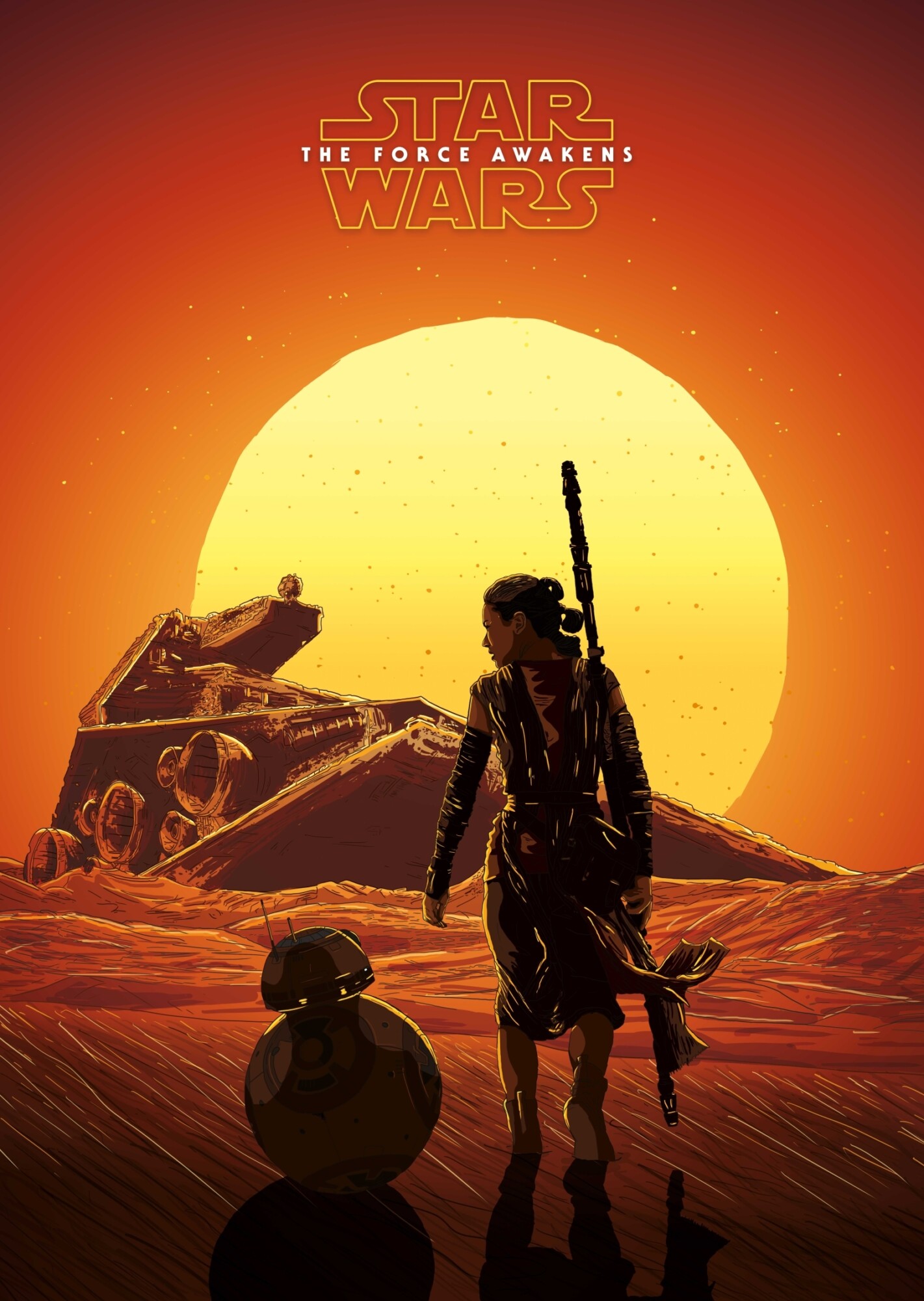 Rey and B88 by Steph Bourne
Solo by DaveOFlanagan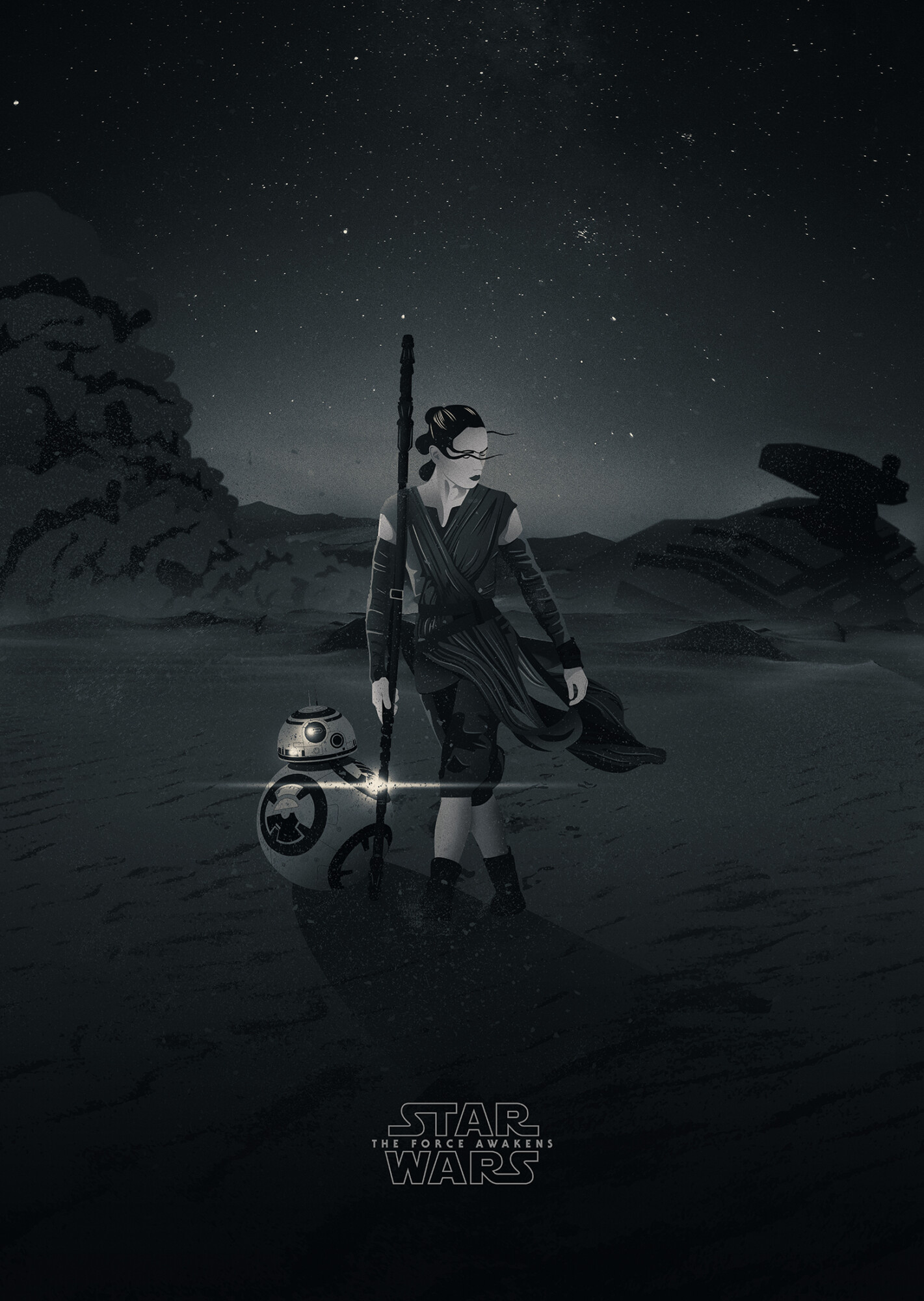 Star Wars The Force Awakens by Dan Anscombe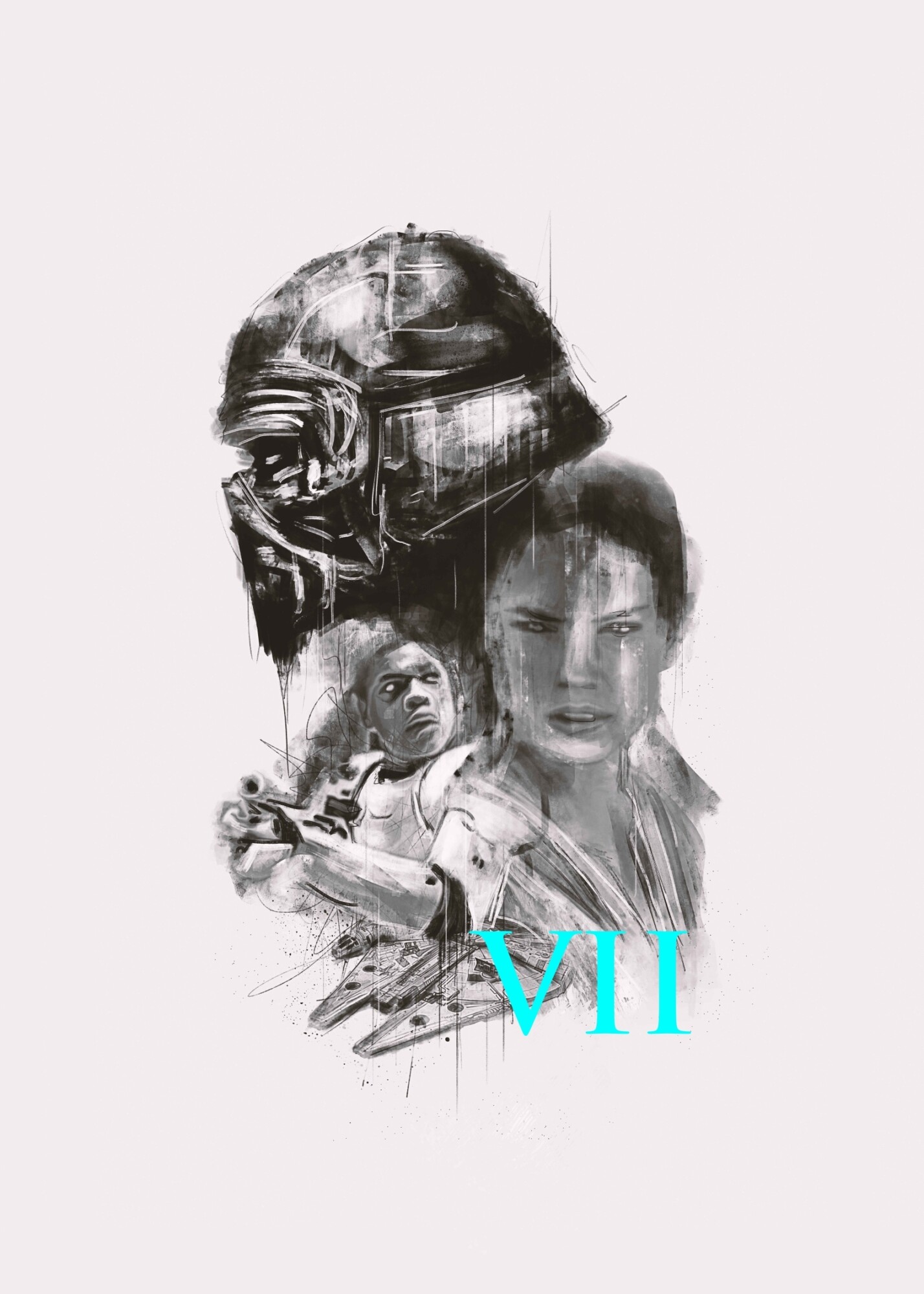 Star Wars The Force Awakens by Rafal Rola
The Great Scanvenger by Mau Toscano/Chaotic Color
---
Final words from Curzon Cinemas
At Curzon there is nothing we love more than films that inspire people to go out and pick up the camera, the pen or the paintbrush – films that endure in the memory and spark the imagination. We are proud and very excited to showcase this incredible range of artwork from fans of the Star Wars saga. Working with Poster Spy to find these amazing artists is just one of the ways we champion creativity in our cinemas, and it has been a fantastic experience, thanks to the sheer talent and the goodwill of everyone involved.

We also want to thank Anthony Daniels for being a wonderful judge for this competition – generous, open-minded, and very, very smart. 

May the Force be with you – and may your cinema always be unforgettable.
Final words from Poster Spy
I'm thrilled to have had the  opportunity to work on this design contest with Curzon and Disney. Star Wars has been a huge part of my life, ever since I was young. So being able to host this contest with Curzon was such an amazing experience. I'm absolutely overwhelmed by the amount of amazing talent this contest has showcased and I can only hope that Poster Spy and Curzon work together on something in the future. I'd like to thank all the artists who got involved, shared and supported this contest because without you guys we'd never be able to bring you these opportunities. I also want to thank our contest sponsors Wacom for supplying such a great prize and Blueprint for supplying the prints for the exhibit.

I'd also like to personally thank Mr Anthony Daniels for taking the time to judge this contest, it a complete honour knowing such a key figure in the Star Wars franchise worked with us. This whole experience will be something I cherish.

Jack Woodhams, Founder of Poster Spy