Last month, we launched our open commission for PAYDAY 3 in partnership with PLAION, 3 artists would be chosen to create a series of PAYDAY 3 posters. 87 submissions were sent in just 3 days and after some difficult decision-making, we had our top 3. Simon Heard, Altiversal and QZKills. All three chosen artists have been long-term PosterSpy users (some as early as 2017) so offering them a paid opportunity was exciting for us.
After just 4 short weeks, the artwork was turned in.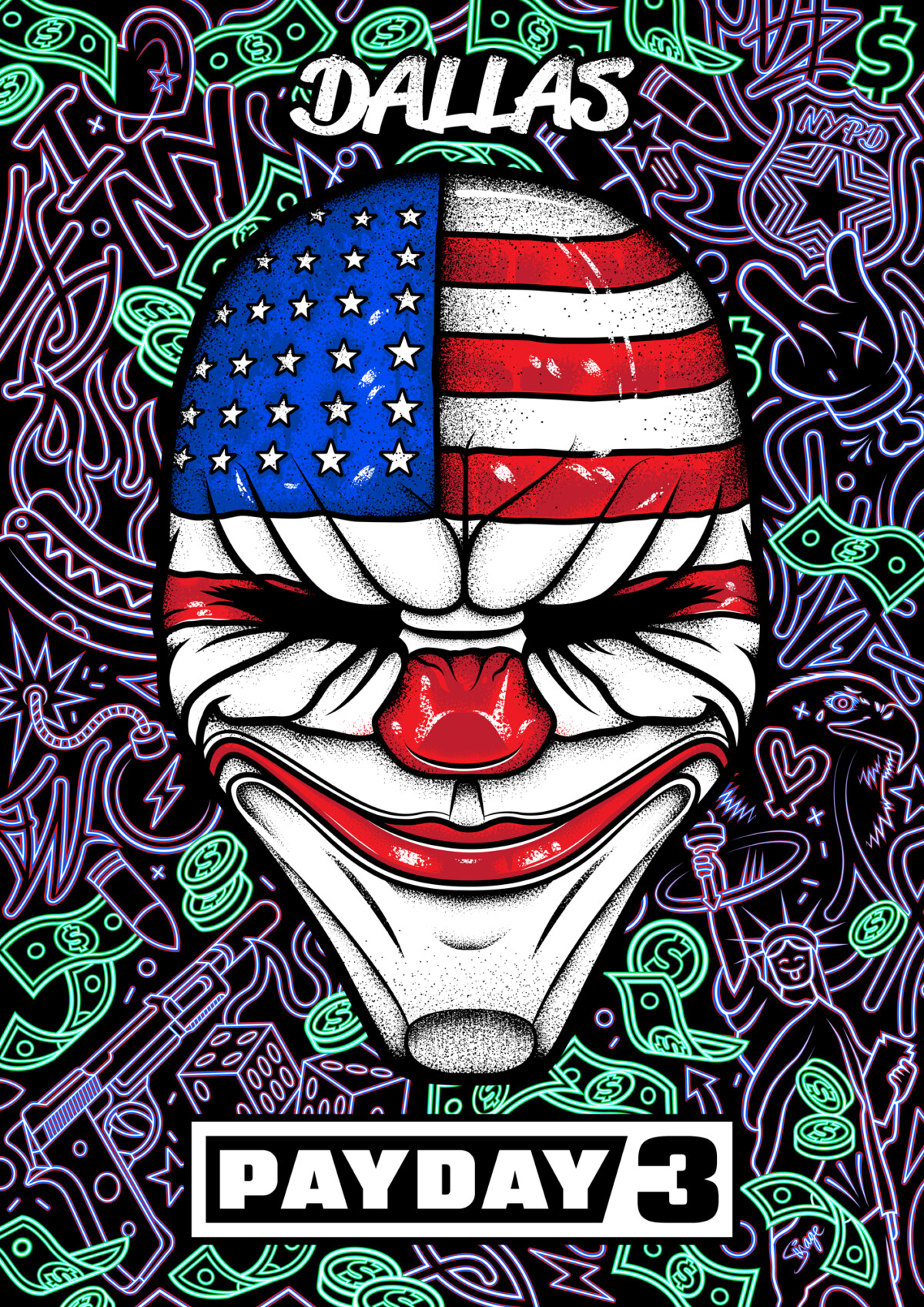 Working on the PAYDAY3 art in my signature art style was a total joy! I worked alongside Jack to come up with some initial ideas/themes for the art which I then took away and created the initial rough. The trickiest part of the process was recording this all across multiple days whilst piecing together the background assets and working on the four separate masks. I'm really happy how these turned out and hope the fans spot all the NYC/Payday themed easter eggs within the background.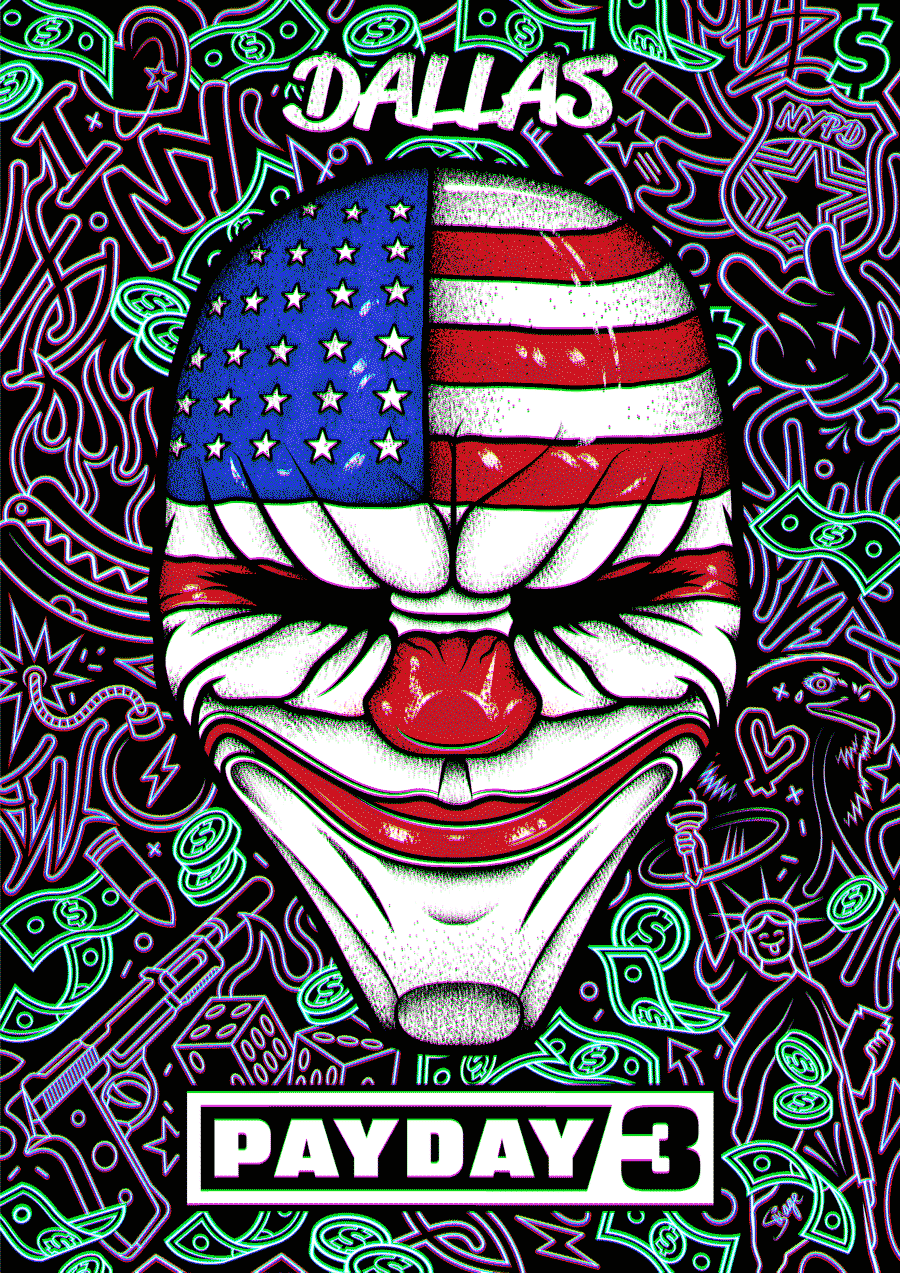 I've missed out on submission dates for PosterSpy commissions before, so I was excited to catch this one in time, and even happier that I was selected to work on something for the Payday series! The whole process was smooth from beginning to end. From thumbnail approval to the final design, the total creative freedom I felt to create the piece the way I wanted to was the best part!

I had a great time making the piece, and I'm happy to see the community responding to it! I hope to work with PosterSpy again in the future, as it was a smooth process that allowed me to fully express what I wanted to with the piece. The submission process took about 10 seconds – submit a portfolio, done. So it's 10 seconds I spent that really paid off!
I've always enjoyed working on PosterSpy projects but this is the first time I've thrown my name into the group of potentials for one of these opportunities. Honestly, I assumed I wasn't going to be selected. Wasn't sure my style was suitable. So you can imagine my bafflement when the confirmation email hit citing style as the reason. 

There is something of an extra challenge in agreeing to work on a property you are unfamiliar with. Actually, I think this is the first time I've ever done that myself. Drawing from something you know is easy enough because you're already familiar with the style, characters, story, and the world they occupy – You can instantly start weaving all of those things together and get right to brainstorming comps. Working from imagination is equally easy in the sense that anything goes and there are no existing targets to hit. This though is an established universe with characters and real people that already love them. The rules feel stricter when you're not sure which ones can be safely ignored or broken.
The artwork was later used by PLAION for a giveaway which gained over 190,000 views in under 24 hours
💰GIVEAWAY ALERT💰
Greetings, Heisters! We wanted to let you know that you could win this stunning set of @PAYDAYGame posters, created by Si Heard.
Are you in? Follow us, @sinagedesign @PosterSpy and comment below where you would display these bad boys. pic.twitter.com/mNlgoc1h2s

— PLAION UK (@PLAION_UK) October 4, 2023
We're also planning a few more giveaways so keep an eye out on PLAION socials.
PAYDAY 3 is available NOW on all major platforms.