Matt Ferguson is one of my favourite artists, having been good friends with him some time, I've been able to see his work progress over the years. (You can view a bunch of his work on his PosterSpy profile). I even got to design Matt's limited edition art book The Film and Pop Culture Art of Matt Ferguson. So as you can imagine, big fan!
Knowing that Matt is an artist who always delivers I was super excited to hear about his new John Carpenter Quad series that's being released via VicePress, his own company and Grey Matter Art.
Below is the release from Grey Matter Art. Which poster is your favourite? Mine has to be Escape from New York, the graphic elements mixed with the precise illustrative style produce a flawlessly executed poster. I'm also a sucker for great typography.
Release
Vice Press and Grey Matter Art to Release Limited Edition Posters by Matt Ferguson for John Carpenter's THE FOG, THEY LIVE, ESCAPE FROM NEW YORK and PRINCE OF DARKNESS In Classic Cinema Quad Sizing!
Last year Matt Ferguson and Vice Press had the honour of working with STUDIOCANAL on the release of their brand new 4k restorations of four of John Carpenter's most iconic titles: THE FOG, THEY LIVE, ESCAPE FROM NEW YORK and PRINCE OF DARKNESS. All four brand new 4k restorations were done using the original camera negatives, with the colour grading approved for the new restorations and UHD versions by the films' Cinematographers: Gary B Kibbe and Dean Cundey.
As part of the release, each film was screened in cinemas across the U.K and featured brand new theatrical posters designed and illustrated by British artist and John Carpenter fan Matt Ferguson.
From the 10th of January, for one week only, Grey Matter Art and VicePress will be giving collectors the opportunity to purchase these posters in their classic cinema quad sizes, a huge 40×30 inches. Each poster will retail for £50/ $60 or all four can be purchased as a set for the discounted cost of £150/ $190. Each print will be signed and numbered by the artist and the total size of the edition will be based on the number of posters ordered during this period. Each poster is a 30″x40′ (inch) fine art print, printed on 250gsm Vitesse Silk Paper.
THE FOG, THEY LIVE, ESCAPE FROM NEW YORK and PRINCE OF DARKNESS will be released via Vice Press (www.Vice-Press.com) at 5pm U.K time and Grey Matter Art (www.GreyMatterArt.com) at 12pm EST on the 10th of January and available until the same time on the 17th of January. Edition size will be dictated by number of prints purchased during this period.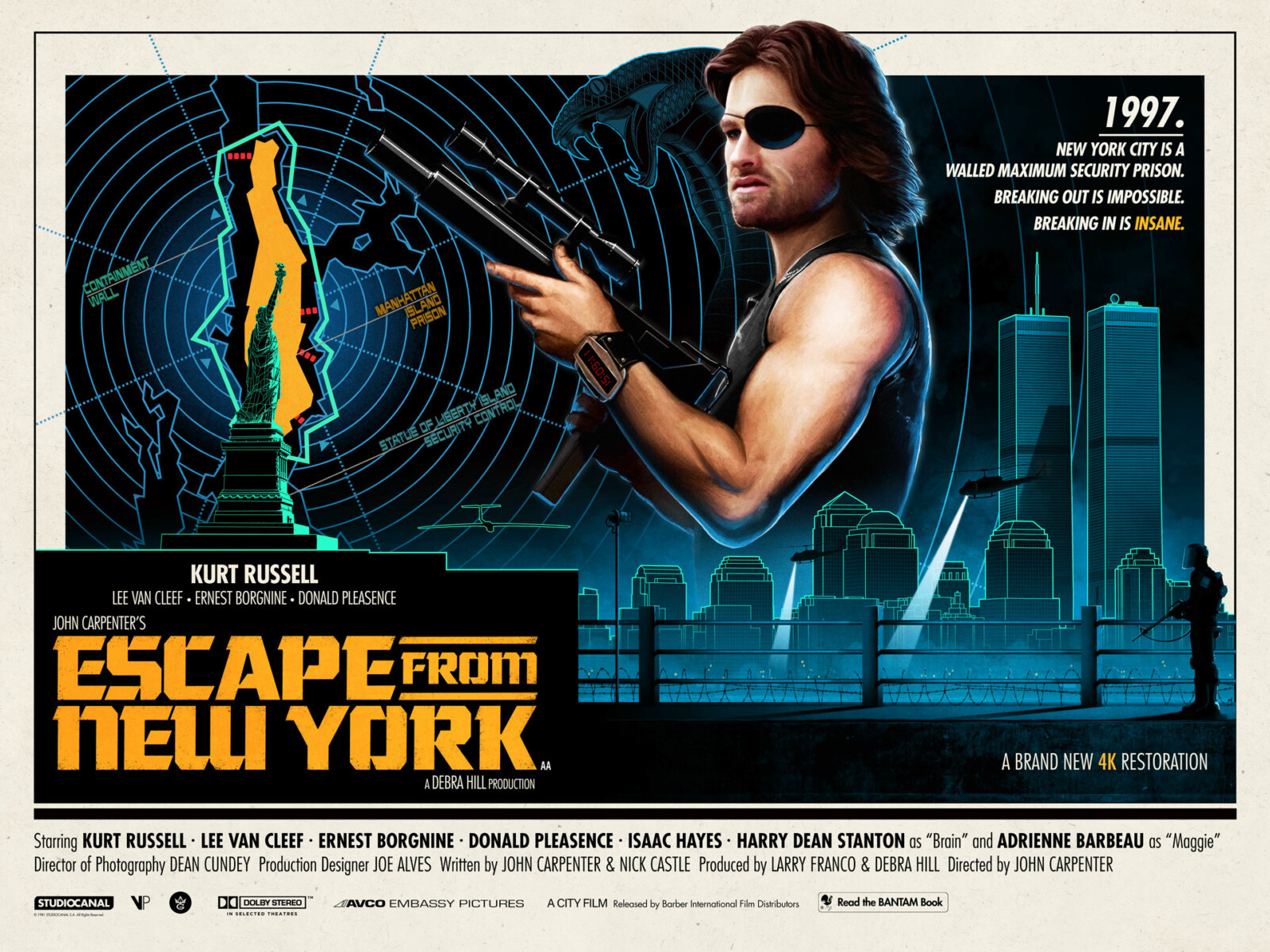 Last year I had the distinct pleasure of being hired by StudioCanal to work on the 4K John Carpenter classics. I conceptualised and made all of the key art for the films. It was a dream job for me and I am really happy the art came out pretty much exactly as I intended. My ideal versions of the art are the UK quad size, it's the way the art was intended to be viewed and also my personal favourite dimensions for movie posters, so I am really happy that we are getting to make these available to people.
Matt Ferguson
About Matt Ferguson
Matt Ferguson is a Graphic Designer and Artist from Sheffield in the UK. Matt is best known for working with Marvel Studios designing artwork for the Marvel's Avengers Blu-Ray collection and many promotional posters. He also regularly exhibits at galleries in the US including Bottleneck Gallery and is well known in the industry for his beautifully stylised creations for established Film and TV properties. Matt is also the co-founder and creative director of Vice Press.
www.CakesandComics.com
Facebook CakesandComics
Twitter @Cakes_comics
Vice Press
www.vice-press.com
Facebook VicePressNews
Twitter @VicePressNews
Grey Matter Art
www.GreyMatterArt.com
Facebook GreyMatterArtLLC
Twitter @GreyMatterArt