In February Legendary approached us to hold a Creative Brief for what could be one of cinemas most iconic monsters. With a duration of 4 weeks artists from around the world submitted their illustrated posters for Kong: Skull Island and we were absolutely overwhelmed by the number of submissions and the talent shown. In total, over 220 entries were submitted. This was quite literally the biggest brief we've ever launched. Choosing a winner certainly wasn't easy, here is the final selection.
The Winner
Submission by Adan Arellano
I am ecstatic to share my love for film and to be included in this talented pool of artists. I loved seeing all the many depictions of Kong throughout the contest. Such an iconic character he is, who can resist. For my piece "Kong and Mason", I wanted to focus more on the dynamic between these two characters. Can Kong trust Mason? He looks hesitant but I think he's a sucker for a pretty face. I also wanted my piece to be bold and iconic, like Kong himself. Thank you to Legendary and PosterSpy for inviting us to participate in what's sure to be a new classic!
Adan Arellano
Adan had his work exhibited at the Bottleneck Gallery in NYC and will receive £500 for his winning entry.
Runners Up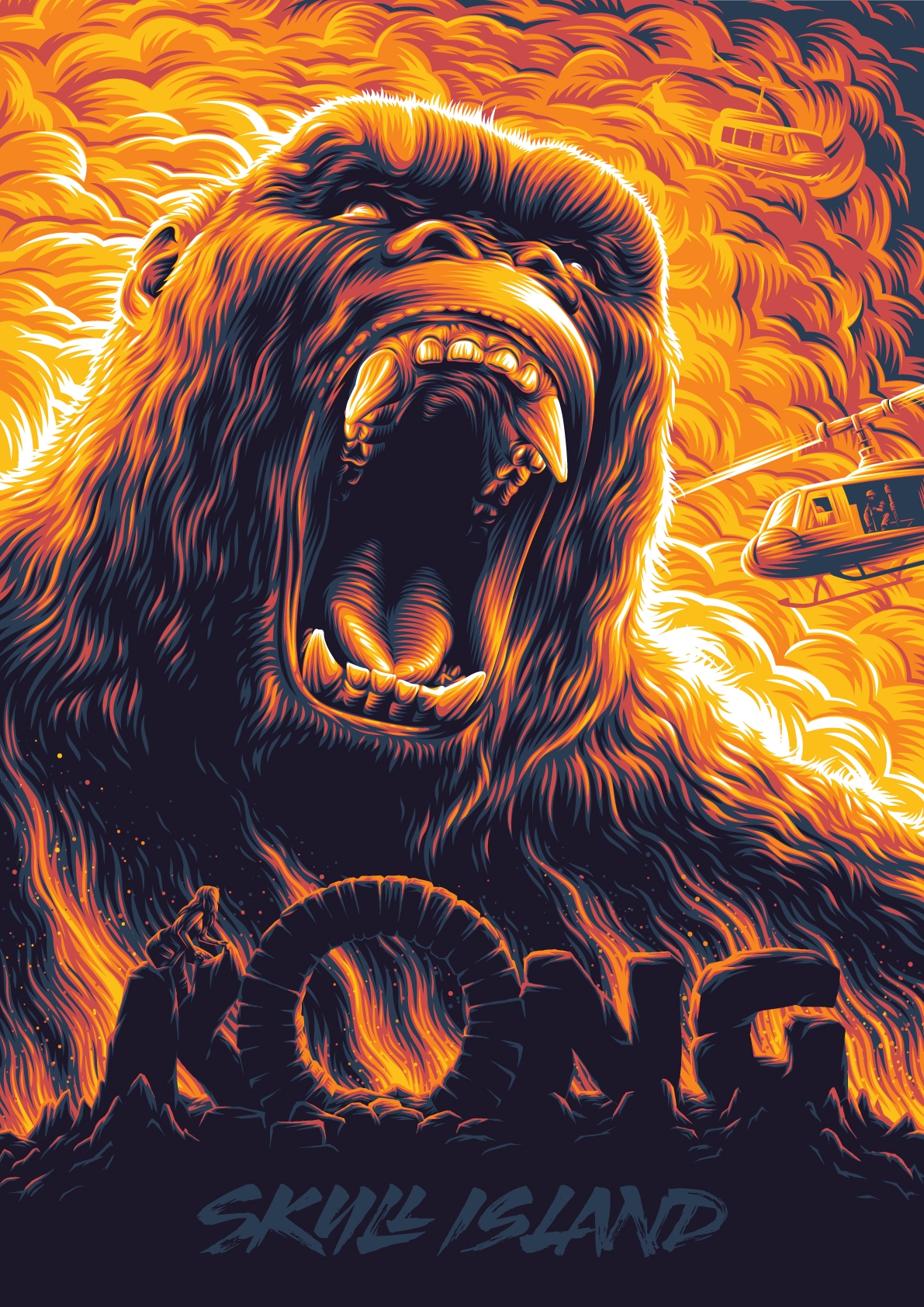 Submission by Aleksey Rico
For first I tried to show my feelings about nature. For me nature and animals are more beautiful and smarter than mankind and we have no right to change nature or kill animals especially rare and unique. Here Kong is a symbol of natures fight against people, and i hope that in movie fire and demolitions from people will turn against them. Also in the trailer I saw a wonderful ancient and mysterious tribe of people and round gates with symbols and i decided to use this gate instead of the letter O in the name of the movie.
Aleksey Rico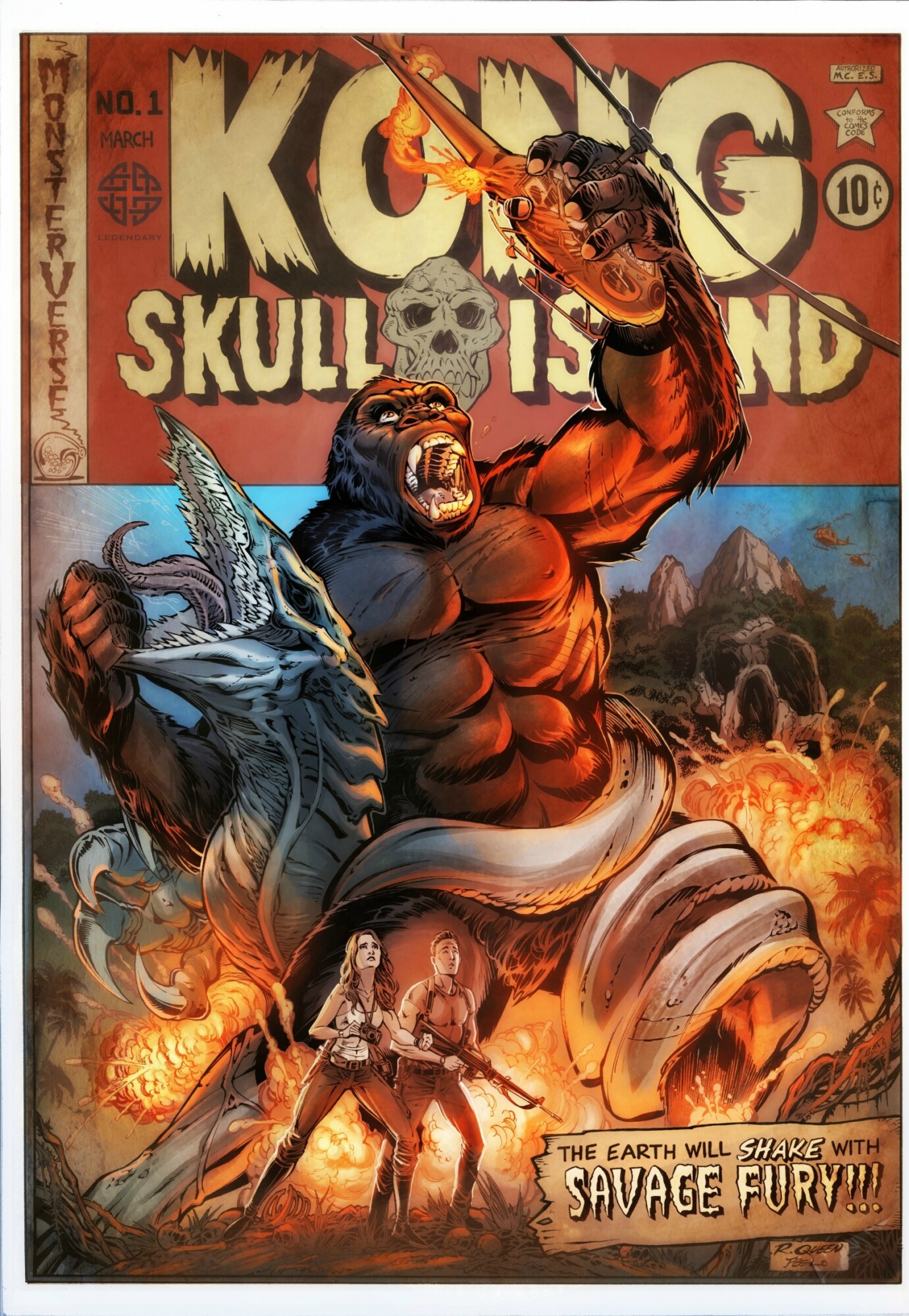 Submission by Randy Queen – Colours by Martin Abel
King Kong was the first film I remember seeing at five years old, so we go way back! My illustration of Kong, as well as the classic comic book inspired logos were created by hand with pencil and ink on bristol board. I posed in the mirror wrestling a giant snake while crushing a soda can to capture the dynamics, and this was not an easy selfie to take! For the colour version, the art was scanned, and brought further to life in a fun collaboration with painter friends, Martin Abel and Gino Acevedo. King Kong is an icon of cinema and represents the bold imagination and showmanship of his creators, Merian C. Cooper and Willis O' Brien; so it was important to create an original, high impact, high energy image which honors this history as well as our vibrant history of pop-culture, while reflecting the nature of the new film. Something that was both a throwback, but also made new with fresh vitality. Long live the King!
Randy Queen
It's hard for us to put into words just how much we appreciate and are grateful to all of the artists who submitted a poster for this brief. Just the sheer scope of entries and talent on show was remarkable.