In January we launched a Creative Brief for I Am Not A Serial Killer A dazzlingly original, darkly funny, disturbing and inventive thriller from director Billy O'Brien. Bulldog film distribution wanted to invite artists to create an alternative poster to mark the home entertainment release of the film. With just under 4 weeks to enter, artists from all over the world submitted designs and we're pleased to be able to announce the winners. So many incredible posters were created, thank you to everyone who took part.
The Winner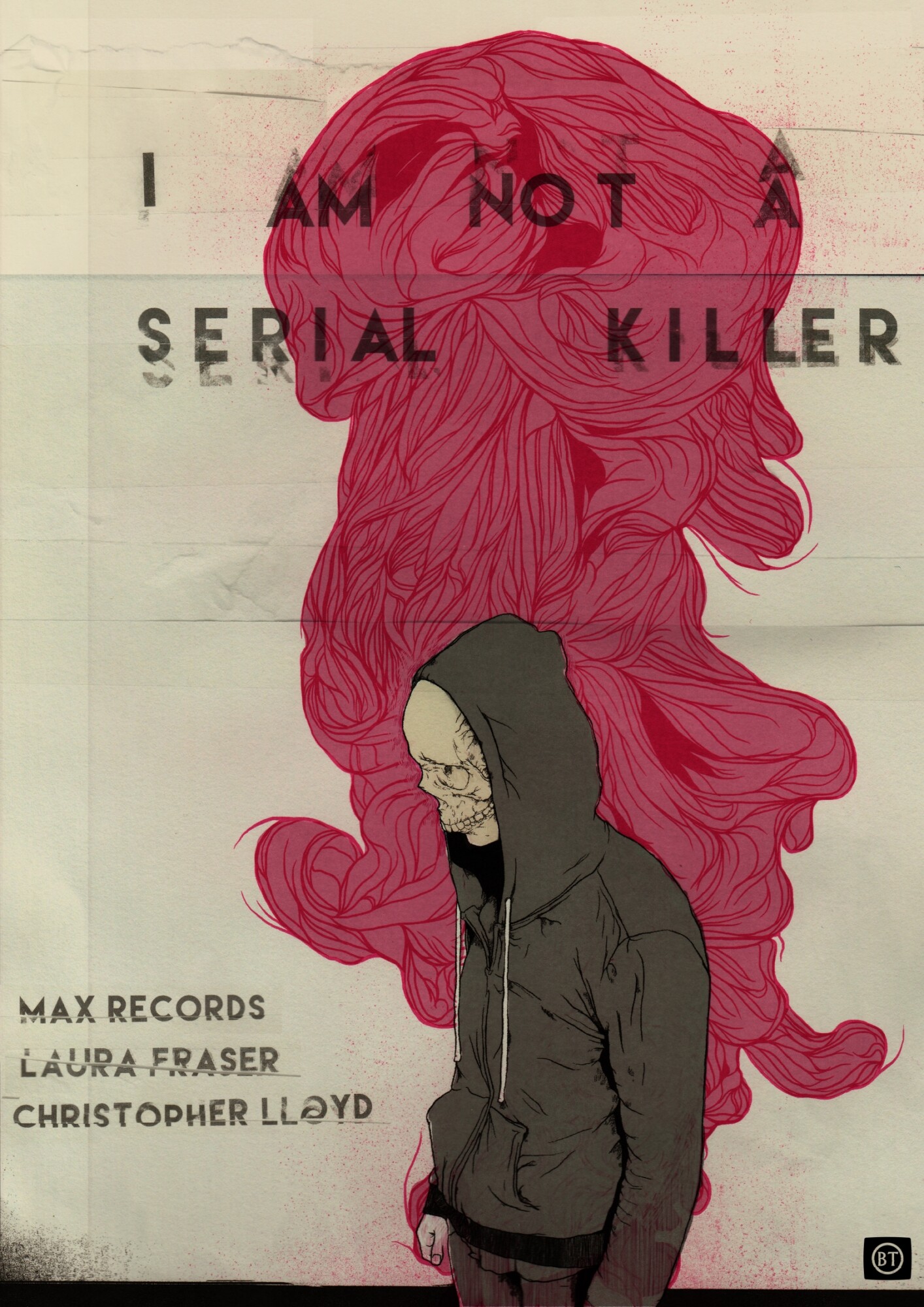 Submission by Ben Turner
I liked all three of Ben Turner's entries. Picked this one because it feels odder and that pink swirling mass is sinister and surreal which matches the film, yet it's nothing I've seen before. So it's fresh and a bit bonkers and very cool. Love the screen-print feel. And I love the type. The juddering quality to it. Love the matching of illustration typography and the handcrafted (not computer) feel. Everything works well together. It feels Japanese and delicate.
Billy O'Brien - Director
Runners Up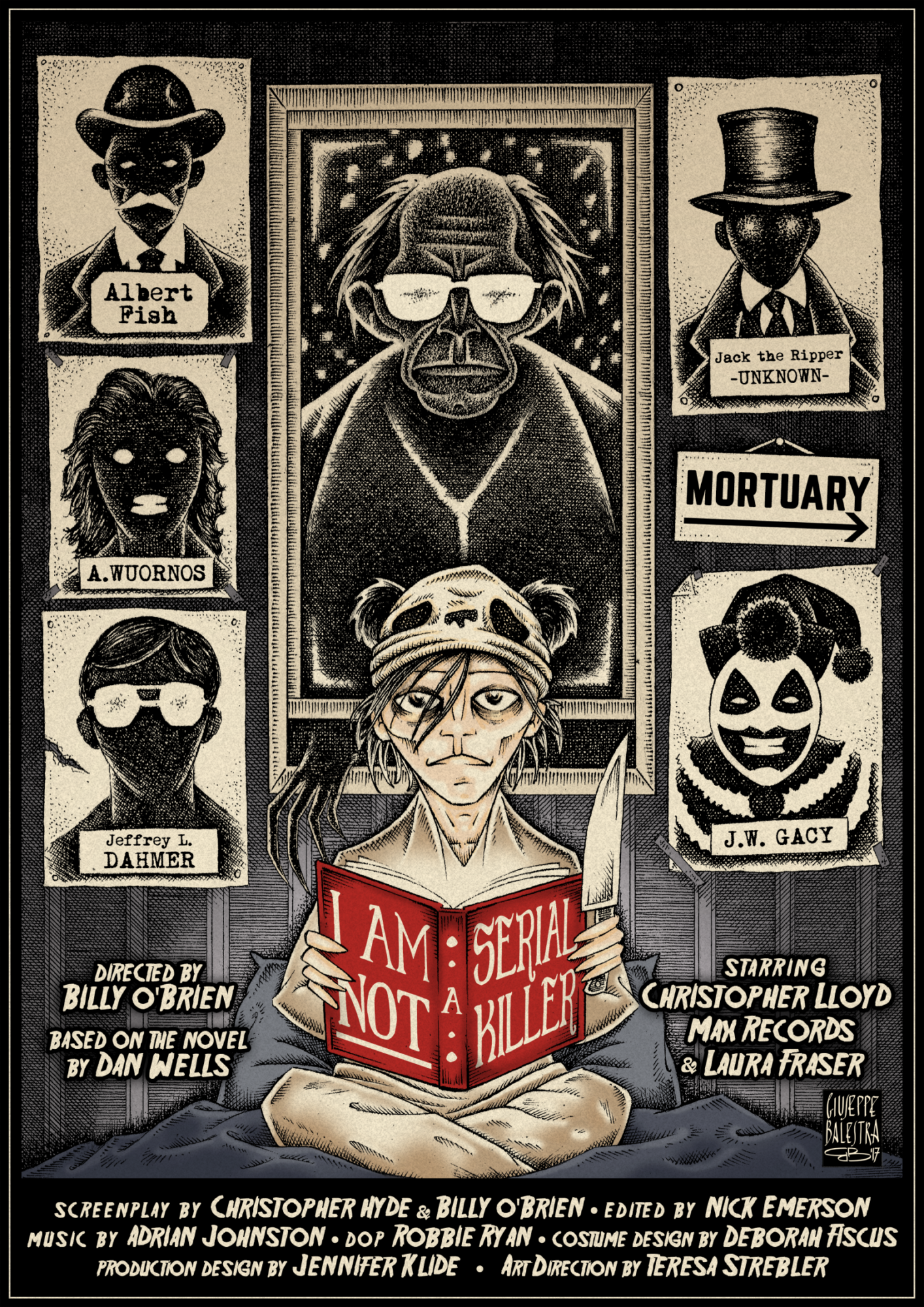 Submission by Giuseppe Balestra
Well I already liked this one a lot before someone pointed out that Crowley was outside the window and not a picture in a frame and his claw was creeping in the open gap below. Just as well I don't need to be observant for my day job… This has a woodcut feel and feels like a folktale. It's dark and fascinating, telling a story – more so when I saw the window and the danger – "look behind you kid!" It's very rich. I always talk about the story in Dan Well's book and now the film being like an ancient folktale. This fits that really well.
Billy O'Brien - Director
Submission by Neven Udovicic
This one has a very simple feel, almost a twisted children's book feel. At first I wondered about it being too on the nose – a red figure holding a knife looking at a series of bodies in the town… does it say this is a straight forward crime film? But no, because the Title, cleverly positioned on the figure is at odds with that – I Am Not a Serial Killer. Its a contradiction and that makes you think. Geminianum entered 2 versions of this poster. I had a head scratcher deciding which one to pick. In the end I picked this one because the splatter effect hints at uncontrolled violence and the black goo in the film. Plus the other one was more beautiful but its graphic neatness is at odds with the grainy feel of the film. Overall it's a brilliant and deceptively simple solution.
Billy O'Brien - Director
Special Mention
Submission by Jared Pascual
Because this was tough and there were so many good ideas here. I've picked this one for a special mention. One of the things we faced with our own posters for the film is something to make them stand out in a crowd. And the oddness of I Am Not a Serial Killer deserved to be brought out. Especially as with Serial Killer in the title it was all too easy to categorise us as a straightforward horror film. This poster has that oddness. If you didn't know a thing about the film this would make you pause. Sinister yet pink! That icy snowy skyline of the town is intriguing and cool.
Billy O'Brien - Director
So there you have it, all winners and an honourable mention as chosen by the film's director Billy O'Brien. Again thank you to everyone who contributed artwork to this Creative Brief and we hope to see you enter our briefs in the future!
Let us know in the comments what you love about the entries!
I Am Not A Serial Killer is now available on DVD and Blu-ray.