Some of you may or may not be familiar with the work of Cardiff based artist Matt Needle. Matt tends to work in a minimalist style and has produced posters for some of cinemas most iconic movies, Matt also dabbles in game posters time to time. We've always been a fan of Matt's work, and it's been a pleasure seeing his work progress and develop over 2014 and we hope to see even more amazing work popping up in 2015.
We managed to chat to Matt about his new 'Oscar Bait' series. For those of you who don't know, before the Oscar Nominations were announced Matt designed 5 minimalist posters paying homage to the films he thought deserved the award. Turns out some of these films didn't get nominated at all, but hey.. the posters look great and rumour has it Matt has 5 more coming up soon!
Under the Skin (2013)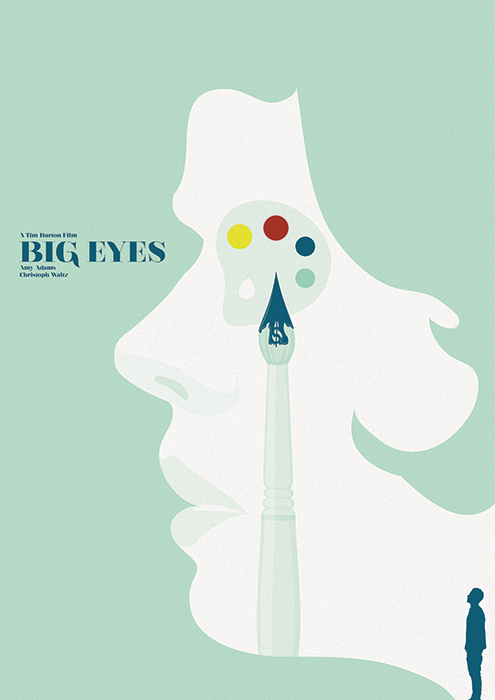 Big Eyes (2014)
The style of your new 'Oscar Bait' series is very different from that of your other works, (although you've done a lot of side on stuff before). Did anything or anyone in particular influence you for this series, or was it just a general progression from your previous works?
The style of my Oscar Bait series actually reflects back to my original style, when i started making minimal movie posters back in 2005 i worked exclusively in silhouette, shape, bold colour, texture and typography.
I thought i would revisit that for this as i had a clear vision of how i could make these very different films visually link together.
Birdman (2014)
We think it's awesome how you've built the faces using elements from the narratives of the films. Will we see any more posters like this outside of the 'Oscar bait' series? It would be awesome to see this series continued.
I actually had created a couple of prints in this style before I decided to start the oscar bait series, I created an american beauty and under the skin poster which I really liked the end result, from there I created a birdman print and decided to work on all the other Oscar contenders. These are the first 5 and im following up with a further 5 prints in a month or so.
Foxcatcher (2014)
2015 is a new year (obviously)… do you have any big plans for the year ahead?
Im just continuing to work on great projects, collaborating with the Poster Posse and doing more gallery shows to expand my reach. I wouldn't mind working on some more large scale campaigns like i did last year.
Whiplash (2014)
Finally, where can people find you?
Im on twitter and instagram at @needledesign
My website is http://www.mattneedle.co.uk
And my store is needledesign.bigcartel.com
There you have it, big thanks to Matt Needle for chatting to us. Be sure to become a fan of Poster Spy on Facebook and follow us on Twitter.
Tell us below which poster you like best!