UK based artist Murugiah has gained a large amount of notoriety in the poster world over the last few weeks, due largely to his recent collaborations with Mondo. We had a chance to speak to him about his recent projects, in particular his A Clockwork Orange poster, which sold out in mere minutes over on the Mondo website. Murugiah's style lends itself well to these mind bending and abstract movies, but we wanted to talk a bit about his shift in style and his plans going forward as a surrealist artist.
I remember back in 2016-2017 you were creating a lot of movie posters, even some uploaded here to an older account. Then you took a bit of a hiatus whilst finding your style. How does it feel to return to movie posters with not only a great piece of art (A Clockwork Orange) but a poster for Mondo? 
It feels great! It wasn't just movie posters. My entire art style needed developing in a major way during this hiatus. It feels really good to be returning to movie posters with A Clockwork Orange. After developing my art style I was only interested in taking commercial projects that truly suited the art style of crazy surreal imagery. I think lots of projects can work here, but with Clockwork, I was watching the film again in preparation and the ideas started to flow pretty easily. It's a film that lends itself to this crazy explosion of creativity when making a poster for it. Working with Mondo was a dream come true. I'm a real fan of all this stuff and have collected a fair few alternative film art for some time including Mondo posters. They are super fun and easy to work with.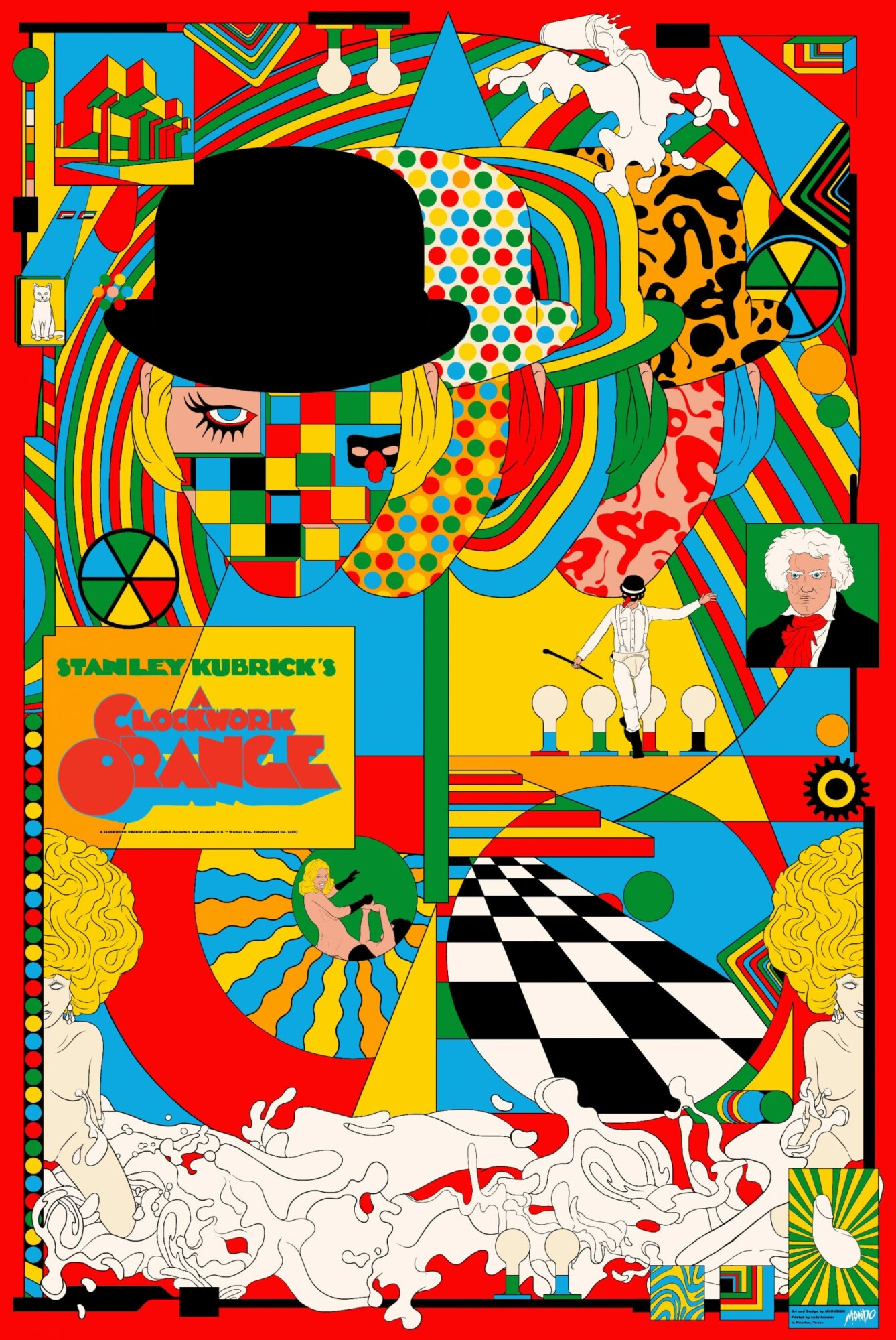 How did that collaboration start, did they reach out to you, did you reach out to them?
Mondo reached out to me. Throughout the main lockdown period was when I decided I needed a work/style revamp, Once I decided how I was going to change things I spent every minute of that time making new pieces of work and posting them. I was making a new piece every week. The work got shared by lots of folks and then I got contacted by the team at Mondo.
Having now worked with Mondo, a huge goal post for any poster designer, what clients are you eyeing up next? 
I would very much like to continue my relationship with mondo. There a lots of exciting galleries that offer their expertise in other genres too. I have a list of clients i'd like to work with but it's not something I am holding out for, you know. One sets themselves up for failure if one is just focused on getting THAT client. My main goals moving forward are to explore and experiment with my personal art style, taking it to new surfaces, paper, canvas, walls etc and keep moving forward with the experimentation. Cool clients will come as a result of that.
As I mentioned earlier, your work, for the time I've known you, has changed in style quite a bit. What would you suggest to artists who are struggling to find their style? Having been through a lengthy process yourself. 
I would always encourage experimentation and going against the norm what what you see in the field you are trying to work in.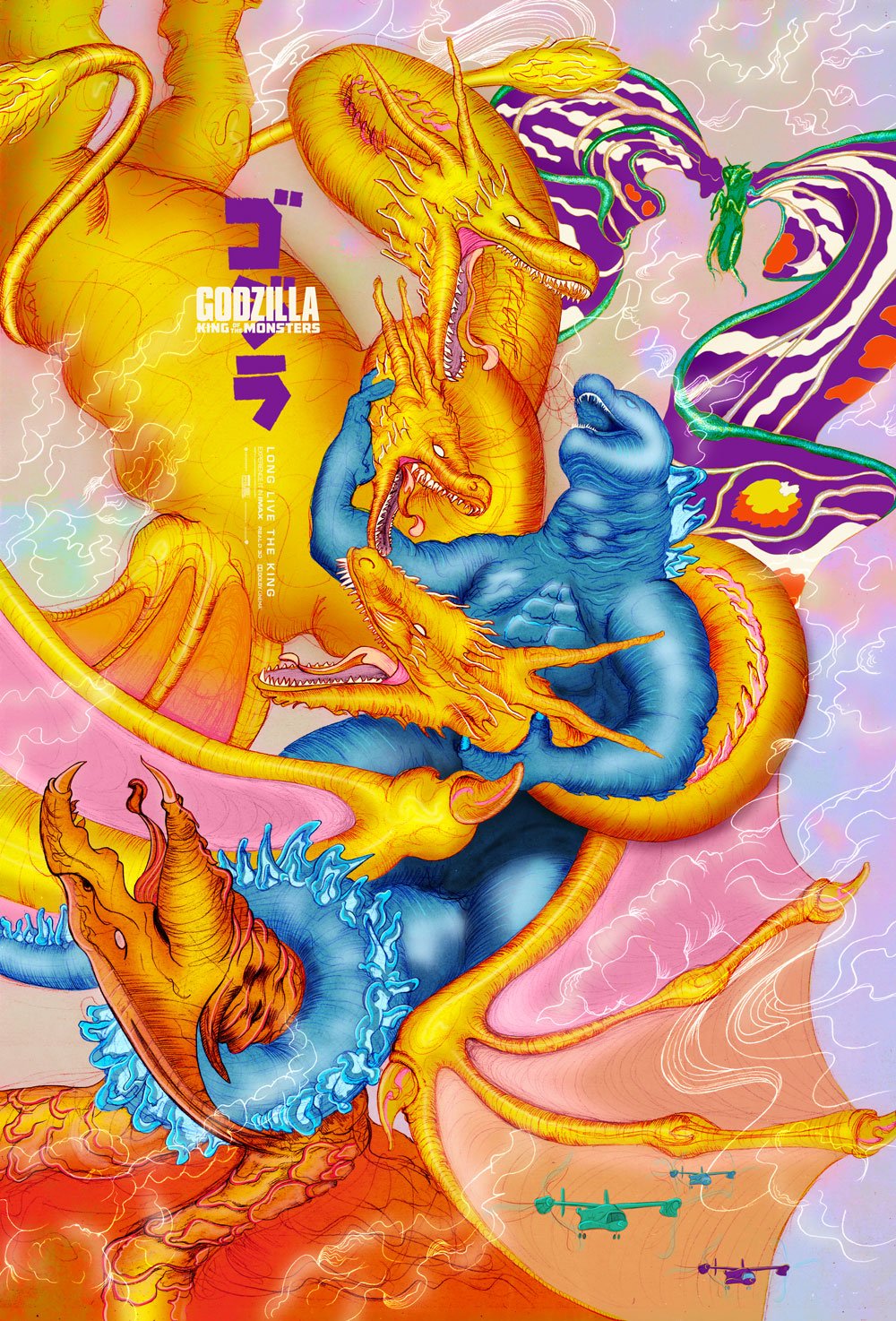 Older work: Godzilla: King of the Monsters – 2019
Currently, your work involves bold, bright colours spread across a surrealist dreamscape. What do you try to achieve in each piece of your work?
I'm not trying to achieve anything. The pieces are entirely improvised in the moment that I make them. There is no pre-plan or thumbnail sketch. There are of course overarching themes and ideas I have in my head that link back to my own personal experiences as a western born pop culture loving nerdy type who spent nearly a decade in the world or architecture. But the work is very much experiential for me. If a viewer of the work can decipher some meaning from it I'd be interested to hear it.
You've recently created work that has been used on a rug, are there any other products or merch you'd like to work on. 
Thank you! Yeah i'd like to apply the work to fashion products for sure, other home decor, lots of things. Not so much mercy but really collaborate with the craftspeople that make these products and infuse my work with their craft to come up with something cool.
Purchase the rug here.
Recently, you created a little brand mascot, Muru, how did that come about, what are your plans for him? 
Muru came from an older piece of work entitled 'Many Faces' I was, without really thinking about it, creating simpler versions of him in some of my pieces. The 3d collaboration with Ni Strada aka @dachi_cornflakes came when I wanted to turn MURU into a sculpture. I hope to get him made and released as an art toy soon and who knows maybe he will sit on The Fourth Plinth one day!
With lockdowns in the UK, you moved from a studio workspace to one at home, how would you say the lockdowns and pandemic in general has affected your work, if at all? 
After the first few years of a home studio then two years of the shared studio life I realised that working from a studio at home was better for me, i'm too easily distracted and I like to be efficient with my time. Reducing the time it takes to get to work was something I realised I needed. The big difference to working from home again is the new addition of a treadmill. I use it every day. It gives me the endorphins I need. Don't get me wrong I still go outside and explore but that time is more pleasurable now. The pandemic allowed me to rest my style without the distraction of daily social life. I was also able to escape the horrors of the world for 6 months while making this new work. But now that I've found my flow i'm excited to bring that daily social life back in, when this pandemic is over.
We have a print release coming up soon together, Dancer II a piece you created earlier this year, what inspired that work? 
Dancer II was really the first piece I created in this newer refined art style. It's the most literal interpretation of my own collective thoughts of what I wanted to say with my work moving forward. So its a super important piece for me. I'm looking forward to revisiting the Dancer series in the future.
Dancer II will be released Friday 27th November via PosterSpy.com/store/
Follow Murugiah:
https://www.instagram.com/_murugiah/