Each year thousands of posters are submitted to PosterSpy.com, this year, PosterSpy has grown more than I could imagine. We've seen artists join from countries all over the world and post their work. We've had artists join not knowing a thing about the site, they're making friends and the community is evolving. It's been a great year we even hit a huge milestone of over 10,000 posters being uploaded! We've also hosted Creative Briefs for some of the years most exciting releases including A Monster Calls, Kong Skull Island, Baby Driver, The Evil Within 2, The Death of Stalin and Three Billboards Outside Ebbing, Missouri.
Portfolio Review 2017
This year feels like the right time to introduce something new, the PosterSpy End of Year Portfolio Review. It's our way of giving back to our growing community. One thing that I have always enjoyed from running PosterSpy, is seeing how artists grow. How their skills change, how their passions and energy transcends to their work.
The End of Year Portfolio Reviews is simply that, we are going to openly invite the PosterSpy community to submit their profiles (www.posterspy.com/profile/example) and 10 incredible artists will receive critique on their portfolios, 3 of those artists will receive some special awards. What awards? We'll get to that shortly.
The Judges
Through running PosterSpy I'm fortunate enough to meet some incredibly talented folks and it makes sense that our judging panel be a selection of today's finest artists in the poster design world. Having feedback from these artists is an exciting opportunity, one that shouldn't be missed.
Matt Ferguson 
Matt has worked for Marvel, 20th Century Fox, Paramount Studios 2000AD and many more. His notable works include his frequent collaborations with Disney and Real D. 
Dan Mumford
Over the past 10 years, Dan has worked within the pop culture and music scene creating everything from album covers, branding and screenprint's to new interpretations of classic film posters and albums. Clients include Disney, Sony, Iron Maiden, Wizards of the Coast, Icon Motoports, CBS and many many bands and record labels from around the world.
Tracie Ching
Tracie Ching is a self-taught graphic designer and illustrator working in Washington, D.C. Her previous clients include 20th Century Fox, Adidas, AMC, CBS, Disney, Fortune Magazine, Google, GQ, Marvel, MGM, Redbull, The Guardian, The London Times, TIME, Sony Pictures, Universal Pictures.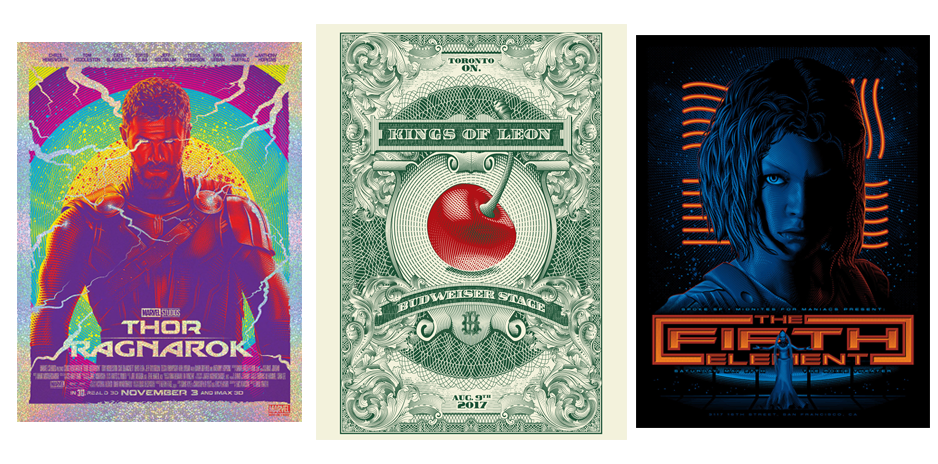 Kyle Lambert
Kyle Lambert is an L.A. based visual artist, who is known for creating commercially successful artwork and illustrations for creative advertising in the entertainment industry. Over the past 10 years Kyle has worked with some of the world's largest brands, including Apple, Adobe, Disney, GQ, Netflix, Paramount Studios and Vanity Fair. His notable works include his key art illustrations for Netflix's Stranger Things.
Paul Shipper
Paul Shipper is a freelance illustrator best known for producing key art and imagery for film, entertainment and advertising properties. Paul recently created the official theatrical poster for Star Wars The Last Jedi.
Paul has had his work appreciated and praised by some fine members of the film industry, including J.J. Abrams, Frank Darabont, Bob Gale, Edgar Wright, Simon Pegg, Tom Tykwer  and the Wachowski's. Clients include Arrow Video, Disney, HBO, FOX, Universal, Lucasfilm, Marvel Studios Shout Factory
 
Choosing the Portfolios
To make this fair, we're setting a criteria for the portfolios. Each portfolio will be checked against a strict criteria, focusing on things like an artists use of composition, colour, typography etc. The top portfolios will be the ones who tally the most points from each criteria.
Awards
10 selected artists will receive critique from the above judges. Then, three top place artists will receive some special awards.
First Place
The top portfolio artist will receive a Wacom Cintiq Pro 13 and 1 years subscription to Adobe CC.
Second Place
The second place portfolio will receive a Wacom Intuos Pro M and 1 years subscription to Adobe CC.
Third Place
A third place will receive a Wacom Intuos Art and 1 years subscription to Adobe CC.
Timeline
Portfolio submissions 1st Jan – Jan 14th.
Portfolio shortlist created by Jan 21st.
Top 10 chosen by February 7th.
Announcement February 14th.
Sponsors