When 2K UK approached us earlier this year to do a Creative Brief for Borderlands 3 our instant reply was YES, we have an incredible community of artists who adore Borderlands so it seemed like the perfect way to merge together two passions, gaming and posters.
The brief was simple, create a killer piece of Borderlands artwork, either for the new game or to celebrate the legacy of the series, 3 main winners would all receive £1000 and two winners would receive £500, then all the winners plus 10 runner ups would be exhibited at MCM Manchester. An incredible way to celebrate the game and have the chance to get your work exhibited to hundreds of fans. We took a moment to chat to the 5 selected winners.
1st Place – Simon Carpenter 
Simon travelled to MCM Manchester to see his art up close:
It was an incredible feeling and I'm so glad I travelled all that way to see it in person. The display was great and seeing my piece next to all the other amazing pieces also felt great. I'm really pleased that such a great group of my fellow artists and PosterSpy as a whole got the recognition they deserve. – Simon Carpenter 1st place. 
2nd Place – Lon Chan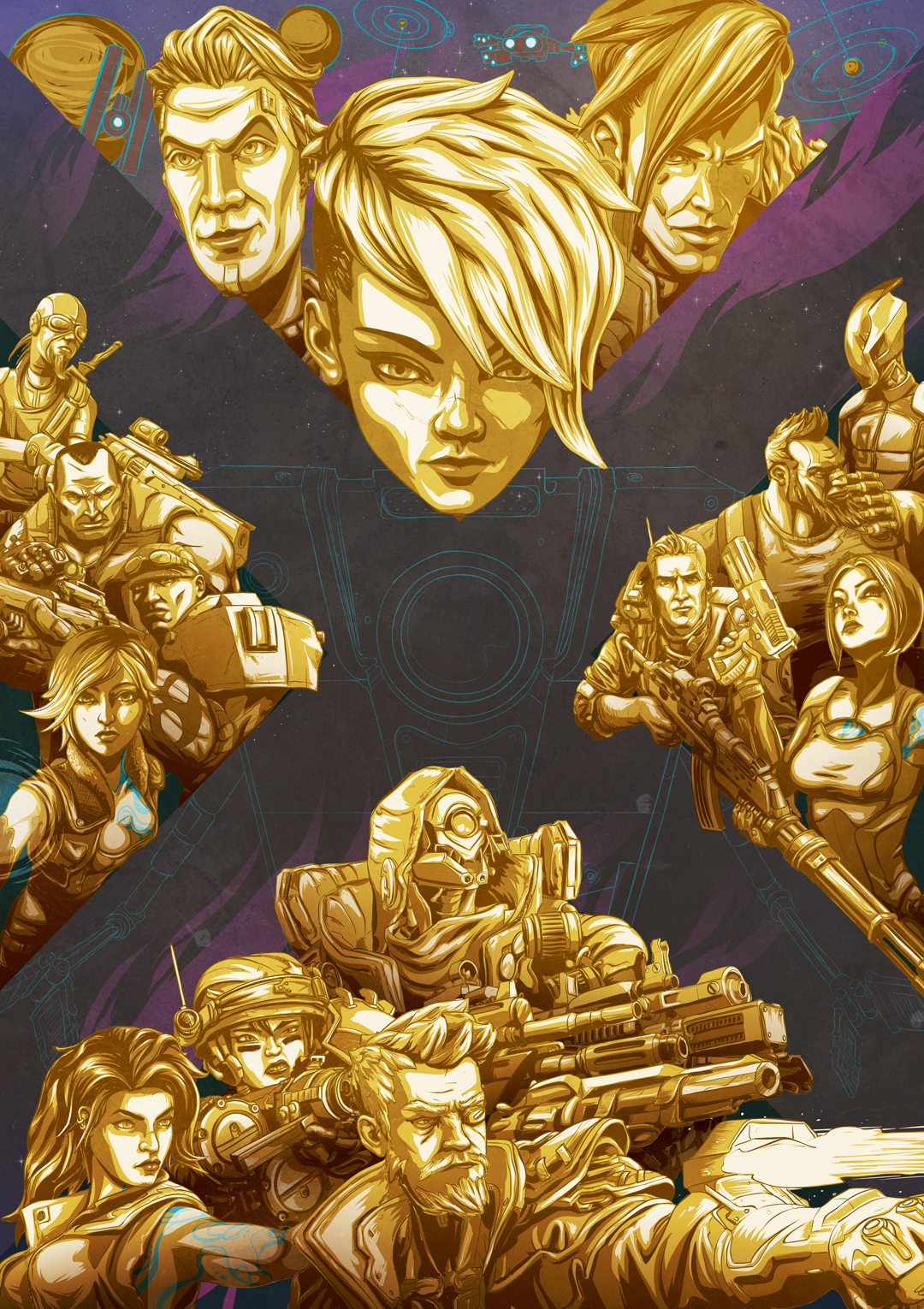 Lon's piece focused on 10 years of Borderlands and the characters that many fans have encountered. When discussing his piece, Lon discussed the use of the X in the composition:
My main inspiration was the number of exciting characters in the series, that and celebrating the fact that it's been 10 years since the first installment. They really informed my whole piece with the roman numeral X representing a decade of Borderlands and forming the graphic frame, I guess everything else followed on from there – the guns, the interplanetary space feel, the division of how the vault hunters and baddies were composed.
3rd Place – Dave McMullen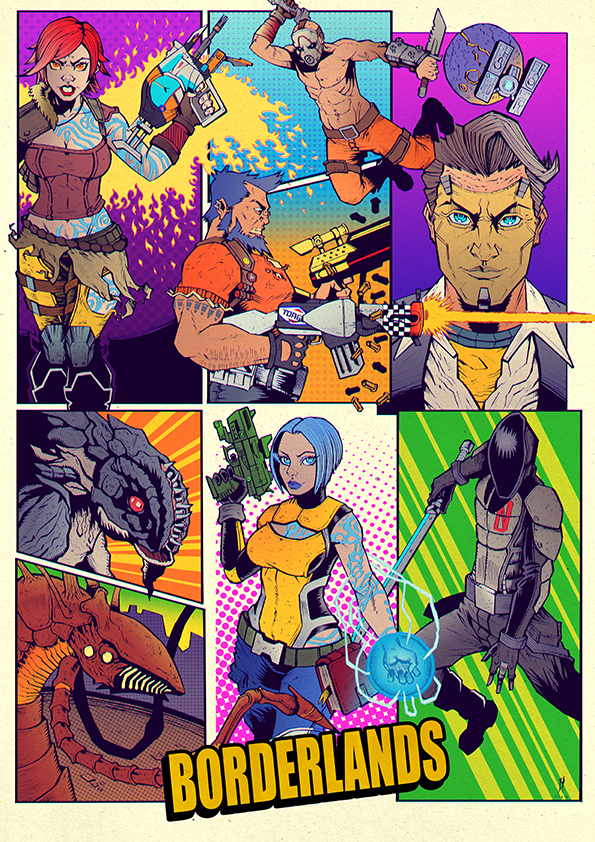 Dave's piece focuses on the comic aesthetic of the game series, we can understand why 2K loved this entry, here's what Dave had to say about his piece:
I've been a huge fan of the Borderlands series since the first game, and in particular the visual style which to me has a very comic-bookish quality. As I have a quite comic/cartoon visual style myself, I wanted to try to convey the energy and frenetic nature of the game as if it was a comic book page. I also sunk a lot of hours into Borderlands 2, so that game served as my primary source on inspiration!
4th Place – Bernie Jezowski
Bernie's entry focused on one character, Zer0, here's why:
I can't believe it's been 10 years since original Borderlands, it was such a cool and groundbreaking game. My brother, my best friend and I, we played it with no end (actually we played and finished the 1st game on New Years Eve). I singled out one character, as Zer0 is my favourite of the series (so enigmatic) and I spent most time with him. He's constantly in motion, hopping in and out of invisible stealth mode and I tried to portray it in a graphic way.
5th Place – Colin Murdoch
Colin's great poster features the main characters of the series which have been in the hearts of gamers worldwide for over a decade. When asked what his inspiration was for the poster, Colin explained that:
Like most posters I work on, I wanted this one to have the main characters featured quite simply so they would be the main focus of the composition. After that I felt that the main antagonist could be just a head, looking menacing, over the top of the other characters to imply some danger. I also thought it would be cool to ghost in the main logo of the game so that it could be in there subtly without having to put the actual name of the game on the poster. That yellow element actually kinda helped put the characters in a bit of a 'place' in the middle ground. There is a basic foreground, middle ground and background which is implied by the use of higher to lower contrast. As long as it says 'Borderlands' when viewed from a distance I am half way there.
Runners Up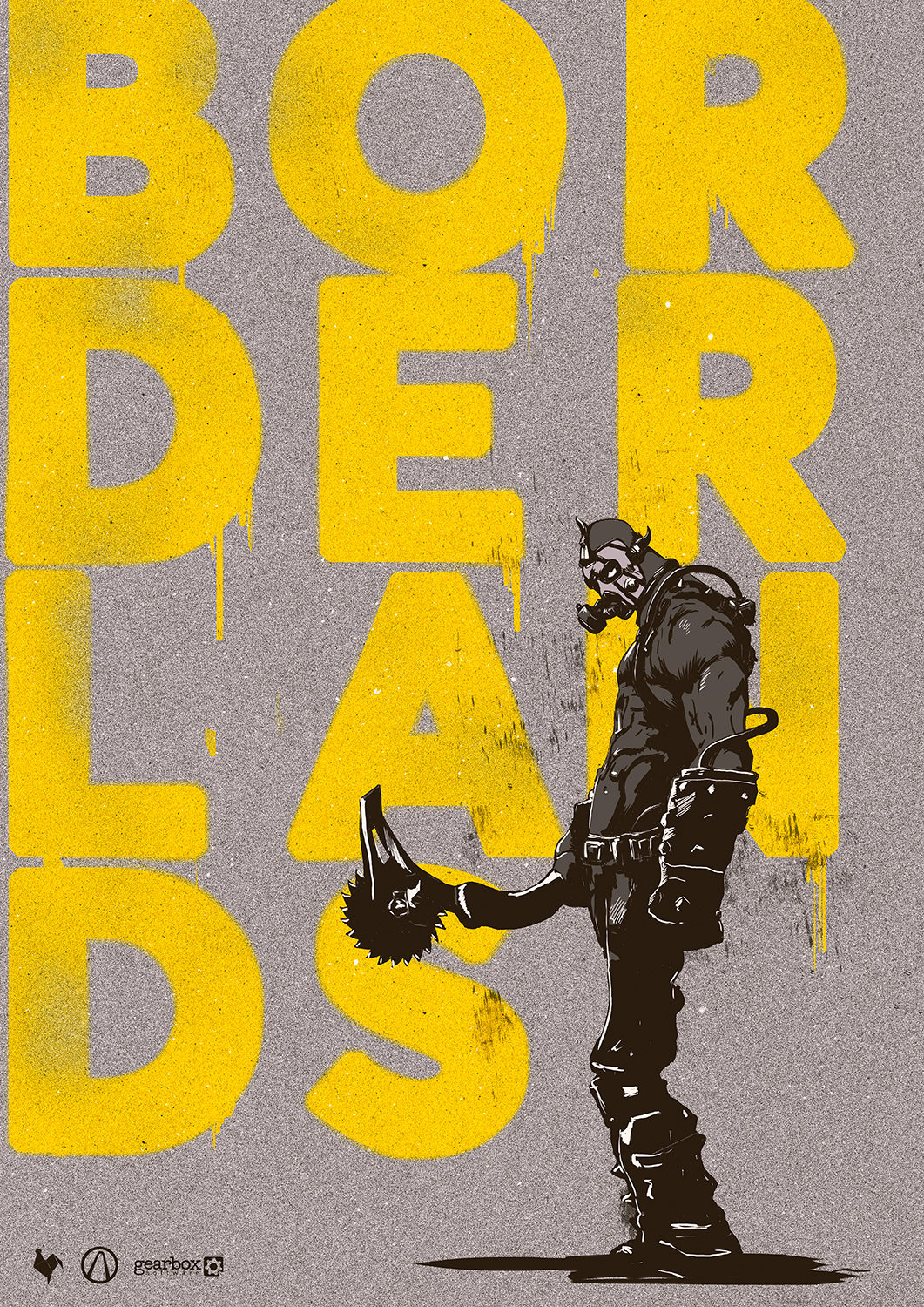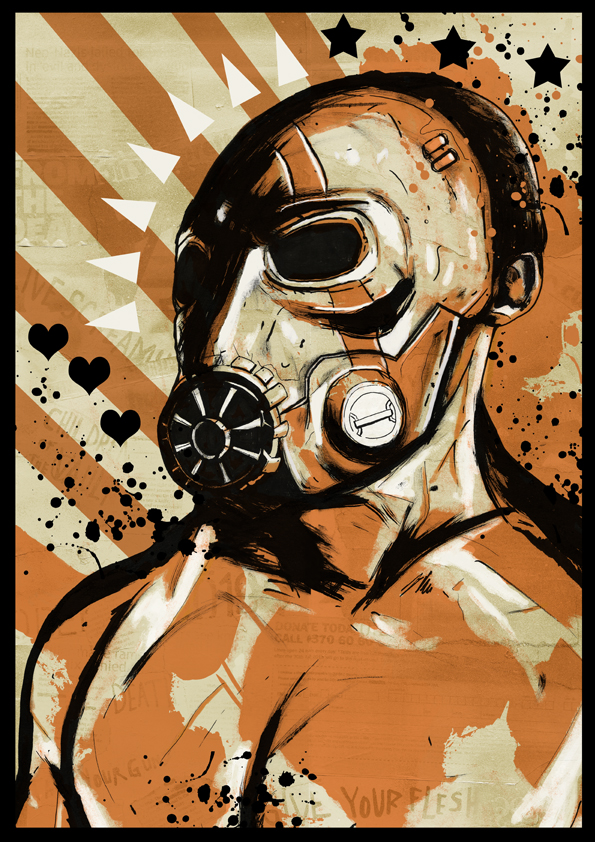 The Exhibit at MCM Manchester