The Oscar season is big for the AMP community: every year, designers and illustrators celebrate the Academy Awards by creating sets of posters for the Best Picture nominees. It's a fun little tradition, and today we're looking at the 2022 works of two members of the PosterSpy community — Haley Turnbull and Edgar Ascensão.
Haley Turnbull
https://www.haleyturnbull.com/
https://twitter.com/lescarletwoman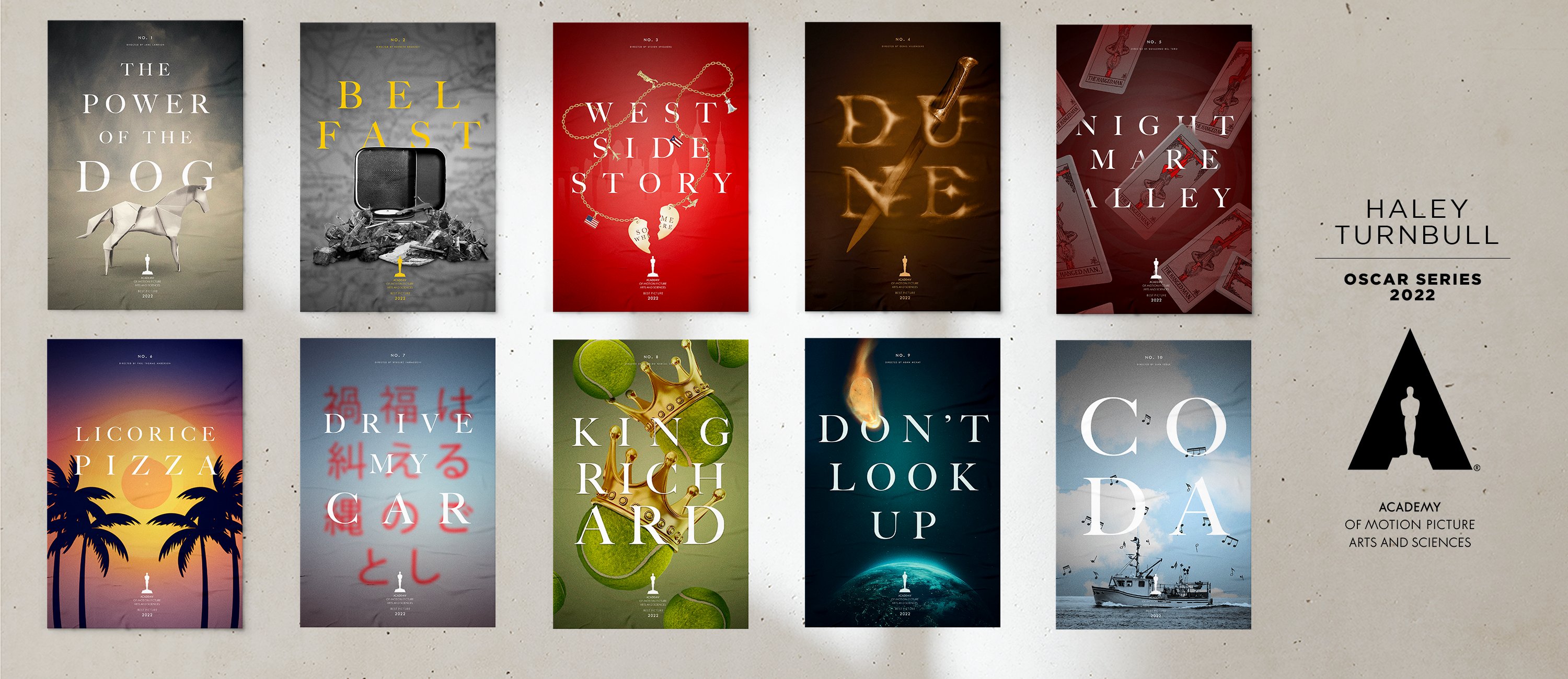 What's your history with the Oscars? Do you typically keep up with the race?
I always have favourites out of the contenders, but I'm actually more invested in what people decide to wear on the red carpet than I am in who wins!
Your Oscars 2022 series is a real rainbow of colour! How did you decide which colour would correspond to which film?
I knew that I wanted all the colours to feel complementary when I looked at the series as an end product, which does change how you go about designing. After I did my first two (The Power of the Dog and Belfast) I realized they were both in neutral tones, so for West Side Story I went full on red. And by the time I got to King Richard I realized I hadn't done anything green, so I leaned into the tennis ball theme to make sure I had that colour included. 
The only one that ended up being a surprise was Licorice Pizza — originally that piece was going to be red, but since WSS claimed it I had to come up with something else. In the end I was inspired by the summery creamsicle tones found in photography of Los Angeles from the 70's.
Which of your design(s) are you happiest about?
Oh gosh – It's like picking your favourite child! I have to say I'm really happy with all of them, but DUNE is probably my favourite.
Which design was the hardest to make?
DUNE and West Side Story were the hardest to make in terms of how long it took me to build them, but I had the ideas right away. Drive My Car took only 10 minutes to build but I agonized over what I was going to make for over a month! It took me absolutely forever to come up with an idea. All I knew was that I didn't want a car in it because it felt too easy. In the end it's one of my favourites just because I think it's the most cerebral of the 10.
Could you share a fun fact about your process?
This year my goal was to make a cohesive series that shared a visual theme. In order to conceptualize this I started super early – I was already designing a month before the nominations were even announced! While it took almost two months for me to make the first five, I somehow managed to make the last five in just one weekend. Also, I actually created one additional poster in the beginning for a film I thought would be nominated but wasn't, which is what you get for starting too early and thinking you can predict these things!
Finally — did you have any favorites in the Oscar race?
I'm a huge DUNE fan but I was convinced it wouldn't get a best picture nom, so that was a really pleasant surprise! That was my favourite film of the year, so it was lovely to see it get that recognition and do so well. I have to say I also loved CODA and was surprised at how affected I was by it – I wasn't expecting to like it so much. The same with Belfast – I was crying absolute buckets during both of them! I love an underdog so I do think it's nice when one ends up taking home the big prize.
Edgar Ascensão
https://twitter.com/edgar_ascensao
https://www.instagram.com/edgar_asc/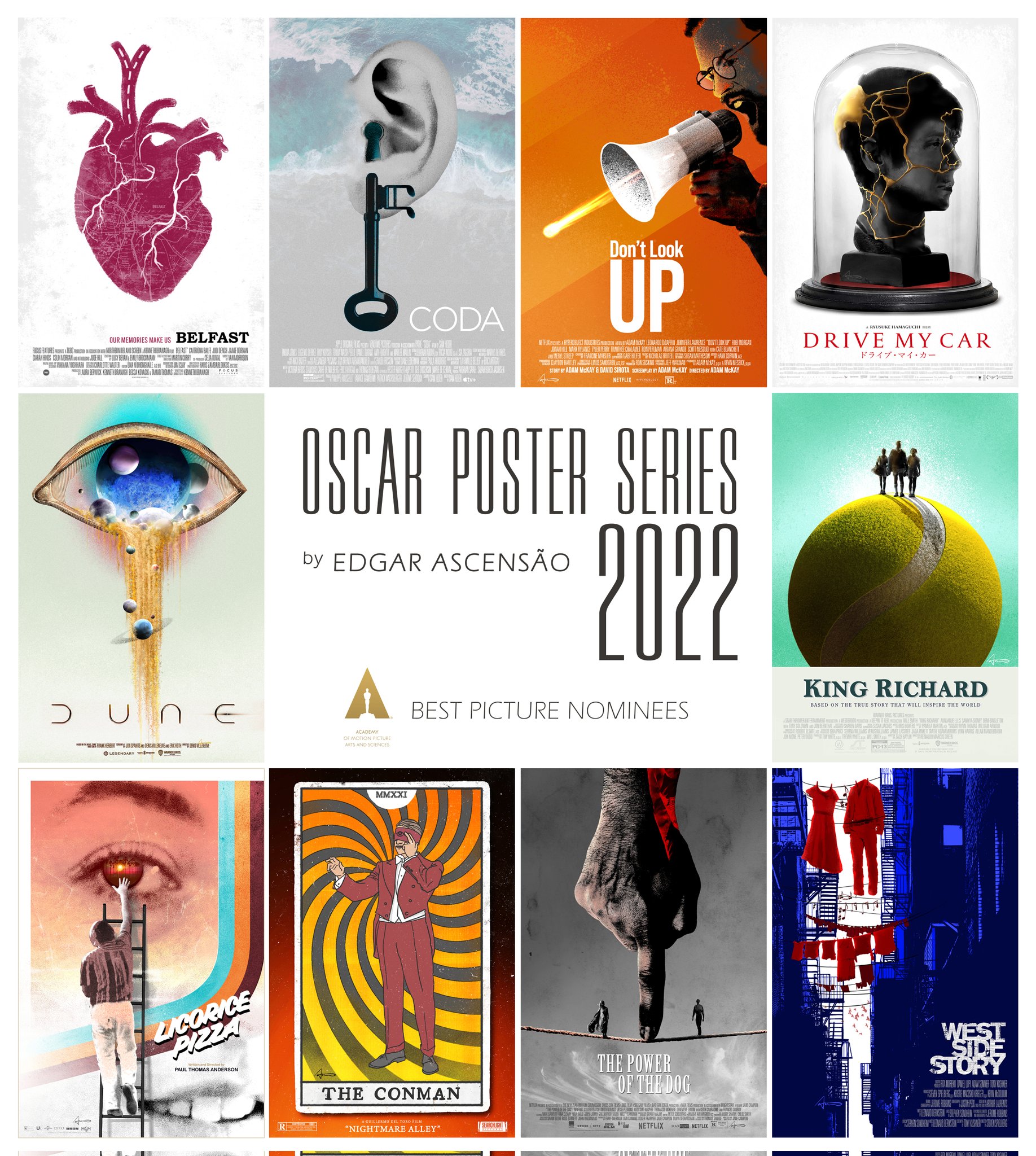 What's your history with the Oscars? Do you typically keep up with the race?
My relationship with the Oscars dates back to 1994, when Schindler's List finished the night as the big winner. I was twelve, didn't understand English very well, and my parents let me watch the ceremony late into the night, even though it ended at five in the morning here in Portugal. I hadn't seen any of the nominated films, but I enjoyed all of it.
Since The English Patient I have never missed the awards ceremony. All of them went on until dawn. It was part of the magic… Over the years, much of that magic was lost, but I acquired the knowledge I needed to keep up.
How did you decide on the style and vibe of each of the posters?
I've always wanted to do the posters of the Oscars Series so that they'd stand the test of time and not end up stuck in the ephemeral form of that Oscar week.
I rely on the ideas, messages and emotions that each film brings me. Some turn out to be more minimalist than others, partly due to the pressure of wanting to finish all ten posters on time (this year is the first time I completed the entire series).
Which of your designs are you happiest about?
Last year I learned about Kintsugi, the Japanese art of repairing broken pottery in a way that highlights the cracks instead of disguising them. This concept could be a great metaphor for the process of overcoming emotional pain after loss.
Drive My Car is a movie about loss and forgiveness. And so I drew cracks and golden lines on the protagonist's head. I was very satisfied with the final result, it was exactly what I had in mind from the beginning. I think it's my strongest poster of the series.
Which design was the hardest to make?
The West Side Story poster was a pain in the ass. I wanted to play with the clotheslines hanging between the buildings, with the musical notes from the sheet music of Somewhere, Maria and America mixed in between the clothes.
But that didn't work. I interspersed a map of Manhattan with the music score, also rubbish.
Then, I thought of the duo's clothes on the ropes and colored the various elements of the poster into the colors of the flags of Puerto Rico and the USA. And so it became a richer, more balanced artwork.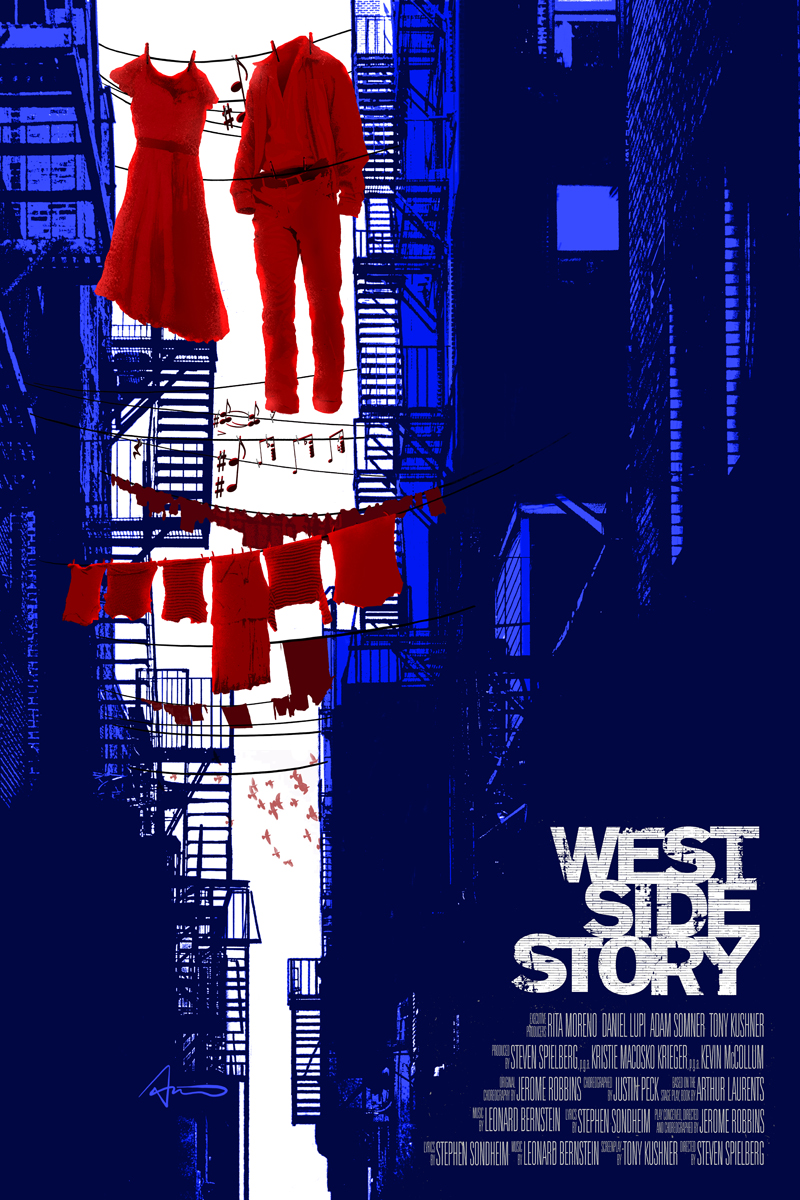 Any fun facts about your process?
It was a coincidence, but initially some of the posters were created around human body parts. Heart for Belfast, eye for Dune, ear for CODA… And I found that so funny that I started thinking of future posters in terms of organs. I almost drew an open mouth for Don't Look Up and a dancing foot for West Side Story. But they weren't working and I threw them away. I also couldn't find other human elements for the remaining movies so I decided to abandon that "rule".
And yet, The Power of the Dog poster got a huge pointing hand. It was stronger than me…
Finally — did you have any favorites in the Oscar race?
Of all the Best Picture contenders, Dune was the most stunning spectacle a movie theater could screen. I am a fierce supporter of the theater experience. Not that streaming movies are bad, but in the movie theater I got totally immersed into the Arrakis Universe.