With COVID-19 being anything and everything that everyone is talking about now-a-days, what better time to reflect on some work that a well known poster artist did not too long ago.
A few months back, a popular digital artist, movie poster creator, and graphic designer – Doaly – of the Poster Posse, created a series of posters for the National Health Service (NHS). The posters were created as part of a campaign through the NHS that looked to take the drama out of visiting a pharmacist in order to find some relief for common illnesses rather than trying to book an appointment with a physician. Doaly approached this by putting his signature spin on some well known movies classics and their cinematic poster counterparts. We sought to get a little more insight into this unique campaign and to pick Doaly's brain on some of the inspiration for the work.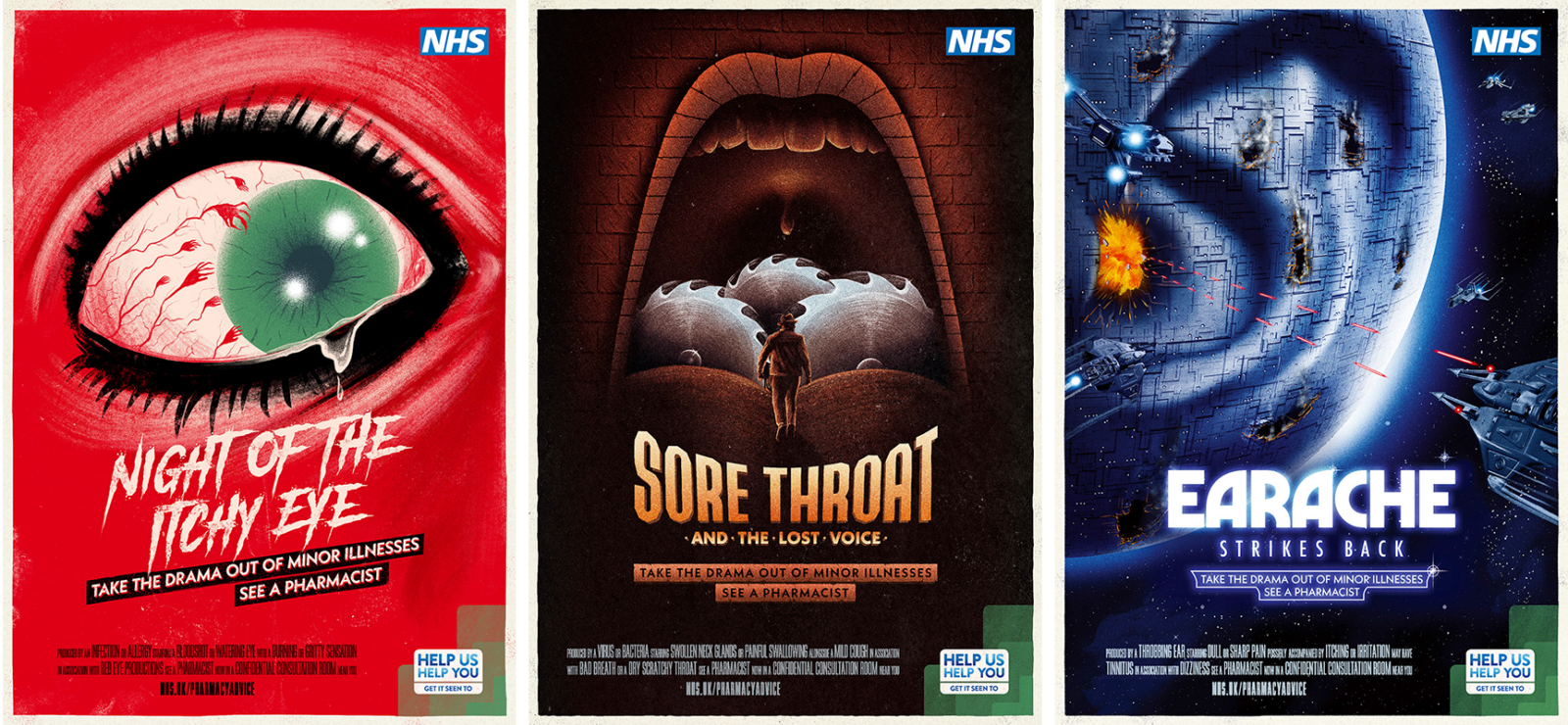 Real quick, when you think horror movies, what are the first three films you think of?
Omen

NightMare of Elm Street Original

The Exorcist
Ok, now why did you think of those films? Were these movies that impacted you via some childhood memory or perhaps something you viewed recently? 
For Nightmare I would say its the first proper horror film I saw and one I watched at a very young age and therefore its one thats stayed with me over the years, but its a perfect execution of creating horror in an every ay setting where it has the most impact. For the Exorcist and The Omen its a combination of its religious themes and the use of child actors.
How did you get started down this fantastic career path that you've paved for yourself? I've always considered you to be a freelancer, did you at one-time work for an agency – and if so would you please give us a glimpse of the time before you were a Poster Posse Pro?
I kind o f stumbled upon this career as an illustrator and poster artist, majority of my career has been in the digital industry as a web and UX designer, I was grateful to have a career that I enjoyed and looked forward to going to but I wanted a creative outlet outside of that which was for me. I'd always enjoyed drawing as a kid but hand't kept up with it as much during university and agency life so I set myself the task to get good and take up digital illustration. Over time I was getting better and would draw in my free time but the designer in me wanted to set myself a brief and I loved movies so I started creating alternative movie posters. I started sharing more of my work online and it was getting reblogged and shared online, this gave me enough encouragement to keep at it. Shortly after I was contacted by a studio exec to create an official alt poster for the movie Spring Breakers, shortly after that I was contacted by the Poster Poster to join its ranks and my career and flourished since then to the point where I quit my day job to become a full-time freelance designer/illustrator.
I see that you did this project through M&C Saatchi alongside the NHS – tell me how that relationship came about and have you done work with/for either organizations before?
So with freelance work a lot of the time work can land on your lap and this is one of those cases, creatives from M&C Saatchi had seen my poster work and it was a perfect fit for the campaign that they were creating for the NHS, I work in multiple styles of illustration which is something they wanted for each poster as they are specific to different film genres. I've not previously worked with either of the organisations before but with success of the campaign I hope to again.
How often do you take on projects like this aside from all the amazing work you produce through the Poster Posse? Are these seen as passion projects for you or do you seek out work like this for a specific reason?
I try to have variety in my work outside of poster work, I love working on movies posters and art but I like variety also and working in other industries. as well as poster work I've worked on a number of box covers, editorial art and packaging projects, it all utilises the same skill set of story telling through visual means so I can very easily design for different mediums and subject matters.
What creative direction, if any, was given by M&C Saatchi or NHS at the beginning of this project?
I worked very closely with the creative team at M&C Saatchi, this by no means was a one man show so I want to give credit to them. I had a great brief to work from and mood boards for the type of styles they thought would work best for each poster, we then worked together as started sketching and seeing what direction would work best. Projects of this size are always a collaboration between art directors, copy writers to designers and illustrators.
What specific movies and/or posters did you pull inspiration from for this campaign?
The posters take from the horror, adventure and sci-fi genre, I would say specific inspirations would be Hitchcock movies, Indiana Jones and Star Wars.
What other work have you created for similar campaigns or ideas such as this one for NHS? (not speaking directly to the horror style)
I've been contacted a number of times for campaigns that take from cinema as a theme, these have been for political campaigns to the car industry. Movies and poster art can be so provocative that I can understand why other industries nod at film in their campaigns.
Ultimately this campaign hopefully builds awareness for the NHS brand and helps get the word out. What was their take (as a client) once they got to see the finished product and were able to push it out into the public? How was it received overall?
I've only heard positive reactions from people who have seen the campaign and this is before they know I worked on it. Its definitely eye catching and stands out from other campaigns within the health care industry and shows that you can be creative when dealing with serious information.
That's it. Any words of wisdom for poster designers and creatives out there seeking that awesome freelance project to work on? Should they seek out agencies to partner and work with or find "one-off" projects here and there that best suit their skillsets etc.?
I would say the first thing to do is start creating work and building a portfolio, if you're not getting commissioned then set your own briefs. With that ammo you can approach design and illustration agencies for gigs or representation. Show the world what you can do through your work and not just words.
A big thanks to Doaly for taking the time to interview with us here at PosterSpy. You can see the NHS campaign over at his website http://doaly.com/project/nhs-movie-inspired-campaign/ and find more work from Doaly through his Poster Posse profile: http://posterposse.com/dt_team/doaly-2/
You can also follow Doaly on PosterSpy: https://posterspy.com/profile/doaly/
'Night of the Ithcy eye' inspired by Hitchcock works
'Sore Throat and the Lost Voice' inspired by Indiana Jones
'Earache Strikes Back' inspired by Star Wars