The final artwork:
Art by Conor Fenner-Toora, Dave Merrell, Julien Rico, Maria Ku, Samer Al Kaabi.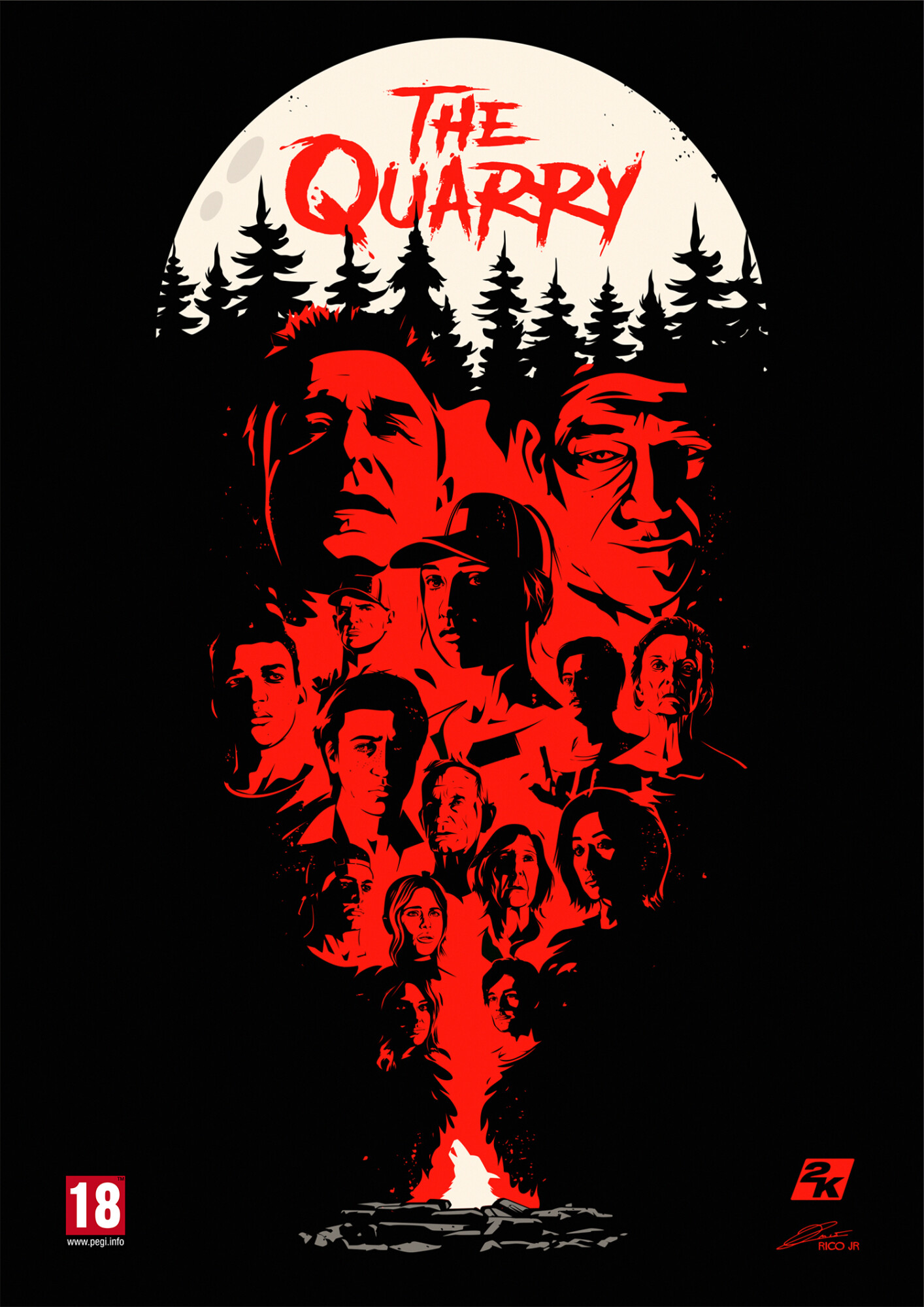 Read our exclusive interviews with the artists
The Original Brief:
Work with us to produce alternative artwork for The Quarry, an exciting new survival horror game coming from publisher 2K (Borderlands, Bioshock)
© Supermassive Games 2022. Published and distributed by 2K. Supermassive Games, The Quarry and Quarry names and logos are trademarks or registered trademarks of Supermassive Games Limited. All rights reserved. 2K and the 2K logo are trademarks of Take-Two Interactive Software, Inc. All rights reserved.
The call to action:
PosterSpy X The Quarry
We're excited to announce a brand new opportunity in partnership with 2K for interactive survival horror game The Quarry.
We will be commissioning 5 members of the PosterSpy community to each produce a poster to promote the game's release.
To be considered, simply send us your PosterSpy portfolio URL – more details below.
About The Quarry
As the sun sets on the last day of summer camp, the teenage counselors of Hackett's Quarry throw a party to celebrate. No kids. No adults. No rules. Things quickly take a turn for the worse.
Hunted by blood-drenched locals and something far more sinister, the teens' party plans unravel into an unpredictable night of horror. Friendly banter and flirtations give way to life-or-death decisions, as relationships build or break under the strain of unimaginable choices.
Play as each of the nine camp counselors in a thrilling cinematic tale, where every decision shapes your unique story from a tangled web of possibilities. Any character can be the star of the show—or die before daylight comes.
---
This is a paid commission, and artists will be given an asset bank from which they can pull inspiration.
More information on the game can be found here: https://quarrygame.2k.com/
Artist Selection
We're looking to commission 5 members of the PosterSpy community. This is a PAID opportunity.
The selected artists will be chosen based on their portfolios only. Please do not provide any written text during your application.
To submit, you need to send us an email with your information, detailed below.
Artists will be asked to draw inspiration from classic horror films including:
I Know What You Did Last Summer
Cabin in the Woods
Friday the 13th
Deliverance
Sleepaway Camp
Evil Dead (original)
American Werewolf in London
Note that we do not want to see mash-ups, parodies or anything that may infringe on the IP of these works.
Usage and License
The selected artists will be required to sign a contract before any work starts. The artists will retain rights in work they create, subject at all times to 2K's, and its licensors', rights in "The Quarry". Any commercial exploitation of the work will require 2K's consent.
How to be considered
Simply submit your PosterSpy profile URL (more info below), submissions are open from 01:00PM BST on 4th May 2022 until 01:00PM BST on 6th May 2022.
Important notice
Although artists retain 100% copyright of their work, 2K owns The Quarry intellectual property and any unauthorised sale of the produced work is strictly prohibited.
Timeline
Portfolio Submissions
1pm 4th May – 1pm 6th May 2022*
Concept delivery deadline
20th-23rd May 2022
Final artwork delivery deadline
10th June 2022
*Times are in BST (UK time) Note: It is important that you are available to work to these deadlines. Only apply if these dates work for you.
Submitting your PosterSpy Profile
By putting yourself forward, you confirm that you are available during May 2022 to work on concepts and the final poster art for delivery by 10th June 2022.
You must be aged 18 or over to take part in this campaign.
If you are interested, send an email to thequarry@posterspy.com
Email subject: The Quarry Commission
Your email must include:
Your full name
PosterSpy Portfolio URL (i.e www.posterspy.com/profile/thequarry)
Please note that due to the volume of portfolio submissions we will only respond to successful applicants.
Want to work with us?
Get in touch