The final artwork:
Art by Anthony Galatis, Geeky Ninja, David Blatt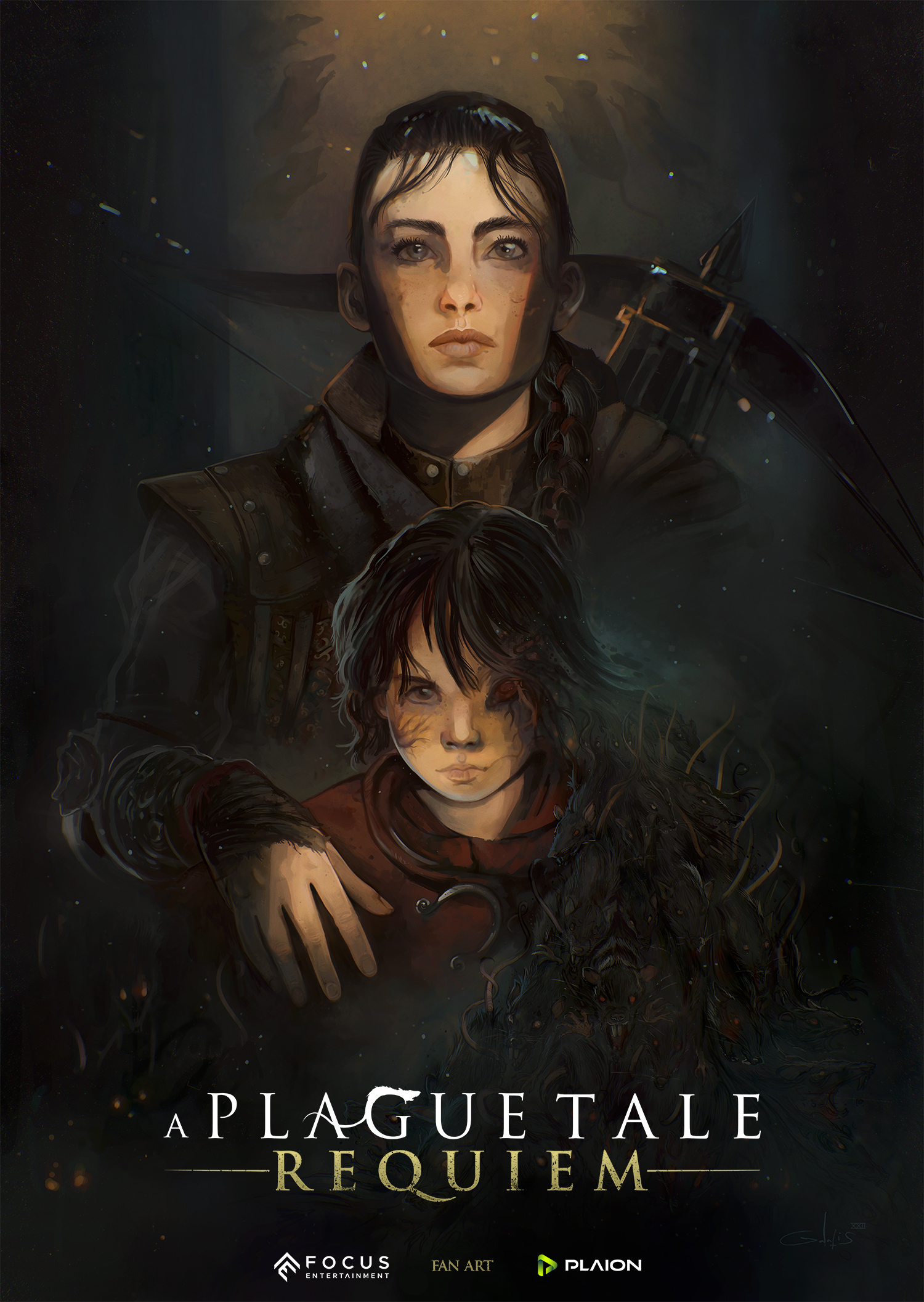 The Original Brief:
Work with us to produce striking artwork for the stunning game A Plague Tale: Requiem the sequel to the award-winning A Plague Tale: Innocence!
Release date 18th October 2022
PosterSpy x A Plague Tale: Requiem
We're thrilled to announce a brand new opportunity in partnership with gaming publisher and distributor PLAION UK for the upcoming Action-Adventure sequel, A Plague Tale: Requiem.
We will be commissioning three members (3) from the community to create exciting posters to promote the game's release.
To be considered, simply send us your portfolio URL – more details are below.
About A Plague Tale: Requiem
Sequel of the award-winning A Plague Tale: Innocence, in A Plague Tale: Requiem you'll follow the critically acclaimed tale of young Amicia and her little brother Hugo, in a heartrending journey through the darkest hours of history.
Hunted by Inquisition soldiers and surrounded by unstoppable swarms of rats, Amicia and Hugo will come to know and trust each other. As they struggle to survive against overwhelming odds, they will fight to find purpose in this brutal, unforgiving world.
---
Follow the cinematic and vivid adventure of siblings Amicia and Hugo set in an idyllical and vibrant medieval city in 14th century Southern France. Overburdened by the emotional trauma of killing her enemies to protect her little brother, Amicia guides Hugo – overwhelmed by his supernatural newfound powers to control hordes of rats – to a prophesised island laden with innumerable rats and inquisition soldiers as they journey to discover a cure for Hugo. Unleash your arsenal of stealth weaponry as you traverse through this merciless world and discover hope.
---
This is a paid commission, and artists will be given an asset bank from which they can pull inspiration.
More information on the game can be found here: https://www.focus-entmt.com/en/games/a-plague-tale-requiem
Artist Selection
We're looking to commission three (3) members of the PosterSpy community. This is a PAID opportunity.
The selected artists will be chosen based on their portfolios only. Please do not provide any written text during your application.
Selected artists will be required to create at least 2 concepts for approval before working on the final piece. Note that concepts can be delivered as rough sketches.
Usage and License
The selected artists will be required to sign a contract before any work starts. The artists will retain rights in work they create, subject at all times to PLAION UK, and its licensors, rights in "A Plague Tale". Any commercial exploitation of the work will require PLAION UK consent.
How to be considered
Simply submit your PosterSpy profile URL (more info below), submissions are open from 15th September 16:00 PM BST and close on 19th September 11:59pm BST
Timeline
Portfolio Submissions
15th – 19th September 2022
Concept delivery deadline
30th September (or earlier)
Final artwork delivery deadline
14th October 2022
*Times are in BST (UK time) Note: It is important that you are available to work to these deadlines. Only apply if these dates work for you.
Submitting your PosterSpy Portfolio
Already a member?
Simply follow the details below to submit your portfolio URL.
Not a member?
To submit your portfolio you must be a member of the PosterSpy website, it's free to make an account, simply sign up and begin uploading your work. We recommend at least 5-10 recent pieces of work on your portfolio so we can understand your style/aesthetic.
By putting yourself forward, you confirm that you are available during September and October 2022 to work on concepts and the final poster art for delivery by 14th October 2022.
You must be aged 18 or over to take part in this campaign.
If you are interested, send an email to aplaguetale@posterspy.com
Email subject: A Plague Tale Requiem Commission
Your email must include:
Your full name
PosterSpy Portfolio URL (i.e www.posterspy.com/profile/APlagueTale)
Please note that due to the volume of portfolio submissions we will only respond to successful applicants.
Want to work with us?
Get in touch